Today's Super Mario Maker #44: New Event Course and Starfy costume
Super Mario Maker came out last year in Japan, Europe and North America, but Nintendo is still going with its Today's Super Mario Maker series. Right now, it's the new Event Courses (and special costumes that come with them) which are highlighted!
New Event Course and Starfy costume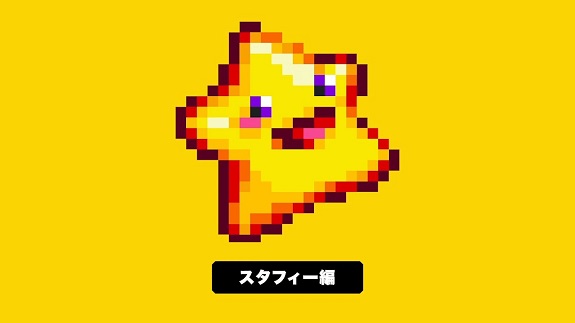 Today, Nintendo announced that a brand new Event Course for Super Mario Maker would be released on April 1st. No, it's not an April Fool's: it's quite real! If you manage to beat that Event Course, you will be able to get a costume based on Starfy, from the Legendary Starfy series.
The series is not really well-known outside Japan, as only the latest entry (on Nintendo DS) was ever released outside Japan. What's more, it never made it to Europe (even though Australia did get the game), and there hasn't been a new entry since 2008.
The Starfy costume you can get by beating the new Event Course comes with its own set of sound effects, end of level jingle, and incredible cute animations.
Here's a video showcasing it:
Previous Today's Super Mario Maker
August 17th: ? Block
August 18th
August 19th: Sound Effects
August 20th: Auto Scroll
August 21th
August 24th: Mario trail
August 25th
August 27th: Commercials (Create)
August 28th: Commercials (Play)
August 29th: Game Styles
August 30th: Pipes
September 1st
September 2nd: Commercial (Play)
September 3rd
September 4th: Fly Swatting
September 7th
September 8th: Folding screen art exhibition
September 9th: Commercials (Play, Arrange)
September 9th: Costume Mario
September 10th: Finding levels to play
September 16th: TV Commercials (Arrange)
September 17th: 1 million courses
November 5th: Super Mario Maker Ver. 1.2.0
November 6th: Super Mario-kun
November 11th: NyaNyaNya! Neko Mario Time
November 12th: Famitsu Event Course
November 18th: TV Commercial, new Event Course
November 27th: NES Remix Event Course and costume
December 3rd: Mario & Luigi Event Course and costume
December 10th: Mercedes-Benz Event Course and costume
December 16th: Monster Hunter Event Course and Felyne costume
December 24th: Captain Toad Event Course and costume
January 7th: New Event Course and Sky Pop Costume
January 13th: New Event Course and Yamamura Costume
January 14th: new Event Course and Daisy costume
February 3rd: New Event Course and Professor E. Gadd costume
February 12th: Pokémon Event Course and Kanto Starters costume
February 19th: Nisekoi Event Course and costume
February 24th: New Event Course and Barbara the Bat costume
March 2nd: New Event Course and Wolf Link costume
March 3rd: New Event Course and Statue Mario costume
March 9th: New Event Course and Mashiko costume
March 17th: New Event Course and Toadette costume
March 18th: New Event Course and Yuu Ayasaki costume

Source: Nintendo