Ace Attorney: interview of the anime series cast, eShop sale (Japan)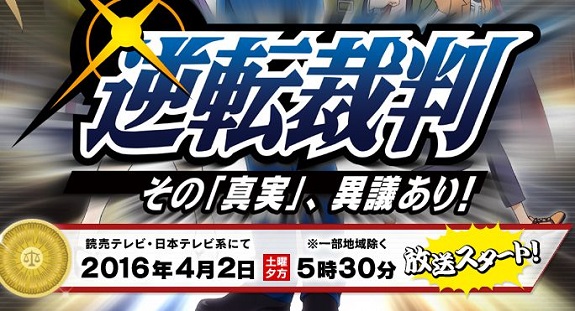 At the AnimeJapan event, last week, 4Gamer.net (and other websites such as Dengeki) had the opportunity to interview the cast and staff of the upcoming Ace Attorney anime series (which debuts on Saturday, at 5.30PM JST). Thanks to our good friends at Court Records, we finally have a translated summary of the interview (make sure to head there for additional details)!
Here's the comments from the cast:
Yuki Kaji (Phoenix Wright): he was both happy and surprised to learn that the series would get an anime adaptation. He loved doing the series' famous "Objection" and "Hold it!" lines during the audition, and he wasn't expecting to actually get the role. He's always found the series "wonderfully silly and funny";
Aoi Yuki (Maya Fey): a big fan of the series, who was too anxious during the audition. She got to say "Objection!", which is not a line Maya get to say often in the game. She had her own idea of Maya before recording, but she learned to understand her better thanks to the Director's directions;
Masashi Tamaki (Miles Edgeworth): the Ace Attorney anime series is the first time he got a regular role, and actually passed an audition. When he went to play the game, it made him feel the pressure building on him. He then had to wait half a year for the recording sessions. He tried to have a rather realistic Edgeworth at first, but he was told to make him sound more arrogant and cool. He wasn't too confident about that at first.
And here's the comments by Ayumu Watanabe (Director), and Shu Takumi (creator of the Ace Attorney anime series):
Ayumu Watanabe (Director): because there had already been a movie, several stage productions and even some musicals, he thought there had already been an anime series. He worked with Shu Takumi on a special part showing Phoenix Wright's past (based on the flashbacks and comments to be found between the lines in the games, but in a more concentrated form), that will be shown halfway through the series. Also, he hopes fans are looking forward to see how moments from the games have been transcribed in anime form: they might even be surprised, and get the urge to go replay the games. Music from the games are used at key moments, and fans are bound to get to get excited about those scenes.
Shu Takumi (creator of the Ace Attorney series, supervisor for the anime series): for some reason, he also thought there had already been an anime series. Now that there's a movie, stage productions, musicals, and even an anime series, he realised there are plenty of ways for people to enjoy Ace Attorney. He notes that Ace Attorney (the first game) actually takes place in 2016, so it's almost like destiny that the anime series is airing this year [though there's a more "simple" explanation: the Ace Attorney series celebrates its 15th Anniversary this year]. He originally intended to leave everything to the animation staff, but ended helping them (due to the Director welcoming him "warmly"). It's for this reason that he believes the series has the proper "Ace Attorney tone".
Talking of the Ace Attorney anime series, a new Real Escape game for the Ace Attorney series (based on the anime series) has been announced, and will take place this Summer in several major cities across Japan. More details will be announced next month.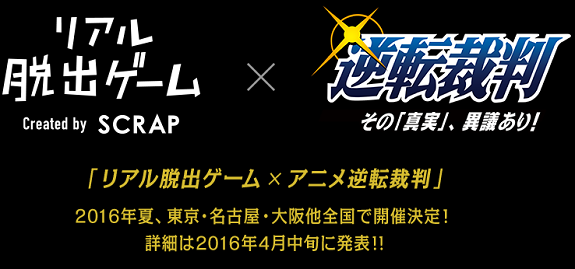 Finally, some good news for owners of a Japanese Nintendo 3DS: the various Ace Attorney games (and their DLC!) are on sale until April 18th in Japan:
[3DS] Dai Gyakuten Saiban: Naruhodou Ryuunosuke no Bouken – 2 995 Yen (instead of 5 990 Yen)
[3DS] Gyakuten Saiban 5 / Phoenix Wright: Ace Attorney – Dual Destinies – 1 495 Yen (instead of 2 990 Yen) / DLC: 200 Yen (instead of 400 Yen)
[3DS] Gyakuten Saiban 1-2-3 / Phoenix Wright: Ace Attorney Trilogy – 1 495 Yen (instead of 2 990 Yen) / DLC Season Pass: 1 000 Yen (instead of 2 000 Yen).
Source: 4Gamer.net / SCRAP / Famitsu
Via: Court Records