Super Mario Maker: patch notes for Ver. 1.30, new Event Courses and costumes available
Super Mario Maker Ver. 1.30
On December 22nd, Nintendo will release a new update for Super Mario Maker: you can learn more about it (and check out some trailers) by clicking here!
Here's the patch notes for Ver. 1.30:
Add objects such as Fire Koopa Clown Car.
Add linkage with the Super Mario Maker Bookmark portal site that will allow a more detailed course search.
Users will no longer be able to use the words "Like", "Yeah!", and the "★" symbol in their course names.

Please change the course name when saving a course that includes these words.

"World Record (fastest player to clear the course)" and the "First Clear (first player to clear the course)" will be listed for each course.

For courses that were posted prior to the Ver. 1.30 update, only the "World Record (fastest player to clear the course)" will displayed.

Adjustments will be made to make for a more pleasant gaming experience.
The update will require 298MB of free space on your Wii U or external HDD. To download it, you will have two options:
let the console do its thing if you have automatic downloads activated. You should have the latest version the next time you lanch the game;
if not, you can launch Super Mario Maker from the Home Menu (not the Quick Start Menu) in order to trigger the download and installation of the update.
To check that you have the latest version of the game, simply launch it: you should see this at the bottom right corner of the screen: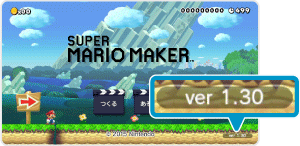 Source: Nintendo
Today's Super Mario Maker
Today, several Event Courses went live for Super Mario Maker:
the first one allows you to unlock a costume based on Mr. Saturn from the Earthbound series
Head after the break for the other two Event Coures!
the second one allows you to unlock a costume based on Master Belch from Earthbound
the third one allows you to unlock a costume based on the Bunny from Nintendo Badge Arcade:
Previous Today's Super Mario Maker
August 17th: ? Block
August 18th
August 19th: Sound Effects
August 20th: Auto Scroll
August 21th
August 24th: Mario trail
August 25th
August 27th: Commercials (Create)
August 28th: Commercials (Play)
August 29th: Game Styles
August 30th: Pipes
September 1st
September 2nd: Commercial (Play)
September 3rd
September 4th: Fly Swatting
September 7th
September 8th: Folding screen art exhibition
September 9th: Commercials (Play, Arrange)
September 9th: Costume Mario
September 10th: Finding levels to play
September 16th: TV Commercials (Arrange)
September 17th: 1 million courses
November 5th: Super Mario Maker Ver. 1.2.0
November 6th: Super Mario-kun
November 11th: NyaNyaNya! Neko Mario Time
November 12th: Famitsu Event Course
November 18th: TV Commercial, new Event Course
November 27th: NES Remix Event Course and costume
December 3rd: Mario & Luigi Event Course and costume
December 10th: Mercedes-Benz Event Course and costume
December 16th: Monster Hunter Event Course and costume