Indie news (May 12): Xenocider / Armikrog / Axiom Verge / Conveni Dream / more…
Today's Indie news:
Xenocider
Armikrog
Axiom Verge
Conveni Dream
Epic Word Search Collection 2
Sneaky Ninja
SDK Paint
Xenocider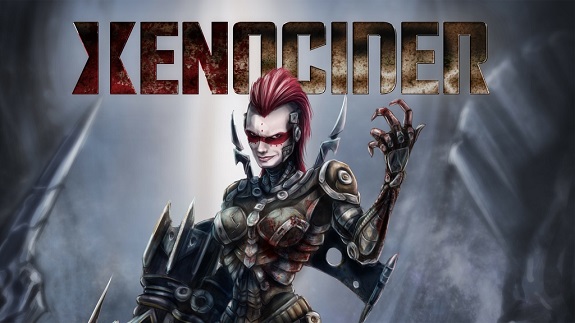 Xenocider is a 3D arcade action game with retro-futuristic aesthetics, currently in development for the Nintendo 3DS and other platforms. The game is on Kickstarter, and the developers need $92 000 to complete development. If they get at least $170 000, there will even be console versions, including one for the Wii U.
You can check out the game on Kickstarter right now!
Armikrog
Today, the developers of Armikrog gave an update regarding the Wii U version of the game. They explained that development was going well, though they still have to deal with some technical issues resulting from the PC > Console conversion. Right now, their main focus is getting the controls right, and making sure they work smoothly. And in order to make the game run more efficiently on Wii U, they're updating the artwork.
Unfortunately, they don't have a release date right now.
Source: Kickstarter
Axiom Verge
In this article, Nintendo World Reports give some small tidbits about the Wii U version of Axiom Verge. From the looks of it, it doesn't have any special features, other than the map and weapon selection on the GamePad.
Head after the break for the rest of this post!
Conveni Dream
Yesterday, Circle Ent. confirmed that Conveni Dream would indeed be released on May 26th in North America, and would cost $5. Our Upcoming Releases page has been updated with this new date!
Epic Word Search 2
Yesterday, Lightwood Games announced another game for the Nintendo 3DS (via the Nintendo eShop): Epic Word Search 2. It will be released on May 26th in Europe and North America, and will cost €7.99 / £5.99 / US $7.99 / AU $9.99. It will feature "flip controls" option, and five new puzzles:
The Epic America Word Search
The Epic Ancient Word Search
The Epic Animals Word Search
The Epic Journeys Word Search
The Epic Shakespeare Word Search
Here's the trailer for the game, along with some screenshots:
Our Upcoming Releases page has been updated with this new game!
Sneaky Ninja
Yesterday, Starfall Studios announced on Twitter that the Wii U version of Sneaky Ninja should be released sometime in October (most likely). We will have to wait a coupe of months before getting a proper date.
SDK Paint
Earlier this week, Hullbreach Studios revealed the full changelog for Version of SDK Paint: which is as follows:
Included

General – All menus in 720P
General – Music on all menus
Painting – New erasers: square, round, smudge
Painting – New brushes: Charcoal, Highlight, Oil, Watercolor
Painting – Load existing art without leaving screen
Painting – Fix to opacity bug with Undo/Redo
Stencils – Tomeling Pack: Texture
Stencils – Pre-Renaissance Pack: TBA
Stencils – Renaissance Pack:Botticelli – Adoration of the Magi
El Greco – Portrait of Giulio Clovio
Hans Holevin the Younger – The Ambassadors
Leonardo – Mona Lisa
Leonardo – The Last Supper
Michelangelo – The Creation of Adam
Raphael – School of Athens
Titian – Equestrian Portrait of Charles V
Stencils – Post-Renaissance Pack:Gleizes – Man on a Balcony
Gris – Portrait of Pablo Picasso
Manet – Flowers in a Crystal Vase
Monet – Madam Monet in a Japanese Kimono
Munch – The Scream
Picasso – The Old Guitarist
Rembrandt – The Storm on the Sea of Galilee
Steen – Rhetoricians at a Window
Stencils – Asian Pack:Guo Xi – Autumn in the River Valley
Kuroda Seika – Lakeside
Raja Ravi Varma – Shakuntala
Seo Munbo – Landscape
Tosa Mitsuoki – The Tale of Genji
??? – Krishna and Gopis in the Forest
??? – Mandala of Vishnu
??? – Portrait of Wuzhun Shifan
Galleries – Autofocus depth-of-field
Galleries – Faster 720P, removed 480P
Galleries – Cheatsheet for controls
Galleries – Music* integration
Slideshows – New feature to view art animated with music*
Slideshows – Pack 1: Fader, Slider
Sharing – Online gallery posting
Sharing – Miiverse Stamps

Add-on Content

Slideshows – Pack 2: Cubes, Wobbler
Slideshows – Pack 3: Card Flip, Parallax
Slideshows – Pack 4: Cascade, TBA

Music Playlist

Bach – Toccata and Fugue in D Minor
Beethoven – Symphony No. 6 (Pastoral)
Bizet – Carmen
Brahms – Hungarian Dance No. 5
Chopin – Funeral March
Gynt – Suite No. 1 (Morning)
HullBreach Studios – Club Night (Defense Dome theme)
Mozart – Marriage of Figaro Overture
Mussorgsky – Night on Bald Mountain
Rimsky-Korsakov – Flight of the Bumblebee
Rossini – William Tell Overture
Sousa – Stars and Stripes Forever
Stephen Lu – Euphorium Suite (Tomeling: Darkness Falls theme)
Stephen Lu – They're After Me (Tomeling: Darkness Falls prelude)
Stratusphere – Catalyst
Stratusphere – Power of Emotion (SDK Paint theme)
Wagner – Grand Fantasie (Die Walkure)
Source: official website