Yo-kai Watch Blasters: list of passcodes, QR Codes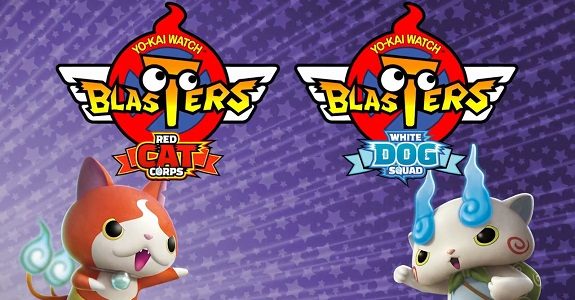 Yo-kai Watch Blasters is a spin-off of the Yo-kai Watch series, where you take a group of Yo-kai and go battle big bosses in a humour-filled action RPG set in the Yo-kai Watch world. Just like the previous two games, there's various passcodes and QR Codes to use, in order to unlock various goodies: coins to be used with the Capsule Toy Machine, items to befriend rare Yo-kai, and much more.
On this page, you will find the list of passcodes and plenty of QR Codes for the game. It's not really exhaustive at the moment: we will keep updating as long as possible.
Looking for Software update details? Check out this post!
Yo-kai Watch Blasters: list of passcodes
13K0U2M0T0
R3DM1NUS
M1GHTR1GHT
Y3LL0GH0ST
B3DAZZL3
0RANG3ARMR
PR0T3CTIV3
FANCYP3ACH
MAXCUT3
GR33NH3ART
H3ALINGALL
BLU3PRANK
MISCHI3F
DARKPURPL3
33RI3THING
BLU3SCAL3S
SLITH3RING
P4PWA36SGU
R9DR3H7VZA
TI8AKUL2UM
BA8JMAQ6AP
YSTUGYSTUG
LA3R3KAM
N0YPASUASU
33DYLBB0W
SG0DNSTAC
YFFULFAG3M
P3AC3FULLY
K0YUWMA3IM
U9KIYU60R3
NUTAWTAS0T
NIN98R3HI7
KINDAY0KAI
Y0Y0Y0KAI
UNS33NPAL
US3URWATCH
M3DALB0ND
P3RKYM00D
CARDS4ALL
FUS3W0RK3D
FRI3NDLVMX
YKWYAYYAY
K03YUZ1YRU
38BSAA4WGI
D37WJIN8MR
RU4M3K7SRA
SI2FGAT2XP
KA5GZUY3DS
LUVKATI3
RUNNINGMAN
CALMD0WN
PR3CISI0N
D33RWAY
SL33PYTIM3 (English) / 4D0RM1R (Spanish) / D0RM1RMNTN (French) / BUON4NOTT3 (Italian) / SCHL4FZ3IT (German)
DANC3ST3PS
TH0UGHTFUL
KN0WURTAIL
L3TSM0V3
3ASYG0ING
FIR3FLI3S
ANTIQU3S
TIM3FLI3S
RURALSPAC3
CRACKLING
C0NN3XI0NS
LANDS3ND
M0UNTAINS
SUCH3N3RGY
HILLYM0UND
3L0NGAT3D
INTH3N0RTH
PL3NTIFUL
CL3ANWAT3R
WAVYS3AS
R0CKYLAND
WARMWAT3R
P3ARTR33S
CALMSKI3S
HANDSTANDS
HAV3AL00K
J0URN3YS
M3TR0P0LIS
ICANWAIT
CITYF0LK
HARB0RT0WN
F3UDALL0RD
SUBURBIA
PARTT0FIT
WAV3S0UND
R3LAXATI0N
0LDT3MPL3S
NUMB3R0N3
B00ND0CKS
HIPPI3T0WN
CH33SYJ0K3
MANDARINS
MYST3RI0US
H0WB0UTDAT
TH3L0NG3ST
WANNAM0V3
G00DS3TUP
INN0VATI0N
P3AKVALL3Y
LADYLIK3
S3V3NS4U
F0UNDY0U
L3TSSH0P
MAPP3D0UT
F0LKTAL3S
CHILLF0LK
W3LC0MING
GRILL3D33L
HARDT0MISS
LI0NSD3N
MAST3RFUL
THISISIT
MANTARAY
PR0UDR00F
J0K3S0NY0U
HIDD3NG0LD
0CT0BALL
TR3ASUR3S
STAYAWHIL3
MUCHT0S33
BICYCL3S
B3ANSTALKS
CLASSICAL
INLANDS3A
H3R0CITY
3N3RG3TIC
FRI3DT0FU
FISHCAK3
HAV3S0M3
Z3BRAMAN3
L0NGWAIT
M0NTBLANC
DULLBL0W
3ARTHW0RM
BIRDS0NG
MACAR0NI
SALAMAND3R
UD0NSAUC3
FULLTUMMY
LAFFYTAFFY
RIV3RSID3
M3GASNAILS
UNIV3RSAL
P0ND3RING
MUSHR00MS
BL00MING
FR3SHAIR
R0ADTRIP
ISLAB0NITA
DRAG0NFLY
T3AL3AV3S
MAPL3SYRUP
SL33PYINN
3XCURSI0N
HAPPYN3SS
T0WNSCAP3
S3AV0YAG3
R0ASTB33F
CLIFFSID3
WH0L3THING
CASTL3WALL
H3R3W3G0
DRAG0NFANG
TIG3RPAW
ISLANDFUN
HAMBURG3R
B33FST3W
SPAGH3TTI
SNAILSYUM
MAK3M0N3Y
NIGHTMAN
W0ND3RLAND
WHAL3M3AT
C0BBSALAD
MANGR0V3
L3NTILS0UP
M3ATBALLS
RUCCULA
RIC3BALLS
B3ANSPR0UT
IC3C0LD
N0RTH3AST
0LDSCH00L
MIDC3NT3R
W3STLANDS
SANDDUN3S
F0LKDANC3
SURR3ALIST
HANDS0M3
5656539315 (does not work at the moment)
B0GIUS0GI2 (does not work at the moment)
5SAH0R05G3 (does not work at the moment)
Y0PIDAN7FU (does not work at the moment)
H3M3DAPIMU (does not work at the moment)
1P0NA6D3NU (does not work at the moment)
SE4TQR572X
F8NAMZEV1C
65JQWZVVVH
MHDFXGRDFI
4JUGTP2CRF
W9555UCOWQ
X3KA8UQPOM
IXXXNLPDFG
ULSY5EADR4
TPSRD8LMU1
IHKDGXFE96
3VPO68XMVQ
KACV4MZ5IS
LISN63YWX3
4HX3DP7PXX
KZ8UE2PY95
QPXO5BMDYG
JITUS1W2W8
TNPNZ1DSAG
2S64HGFZJJ
8MPIA5WB7I
F3DMF05QQN
MIXEXN42X8
VSZHRC39HI
Y5QHMW1MJI
JFUBDO684Y
DYQCNSTRUU
VR35AP8M2V
1JCQ7XVVAE
TXDQKBJ5QQ
MFI4K8G4NG
1JWI6UWIDU
6YVCIPT0I2
3S6Y3KFBYM
4ZNTWMTHDT
Yo-kai Watch Blasters: QR Codes

Chimpanyan
The following QR Code allows you to get the Monkey Dumpling, that can be used in the Momotaro Hunter mission (available from Chapter 7) in order to try and befriend Chimpanyan. Be careful: this is a pretty tough mission, so make sure you're prepared before you try to tackle it!
Rubeus J and Hardy Hound
The following QR Codes allow you to get powerful equipment and items to unlock the "Ultra" level of difficulty in Big Boss missions against Rubeus J and Hardy Hound!
Pheasanyan
This QR Code allows you to challenge Pheasanyan to try and have join your team!
Anime QR Codes
Those are special QR Codes shared in the recap of each episode of the Yo-kai Watch anime series (that can be watched on YouTube):
Yo-kai Watch Blasters: Japanese QR Codes
The following are from the Japanese version of the game, but should still work in the western version of the game (the rewards may be slightly different):
Various coins (including Excitement Coins)
Various Yo-kai
Special "Nyans"
Big bosses
Looking for even more QR Codes? Those from Yo-kai Watch and Yo-kai Watch 2 should also work with this game: check out this post for the Yo-kai Watch QR Codes, and this one for the Yo-kai Watch 2 QR Codes!
Source: Level-5 (Twitter) / Y-Watch / Yo-kai Watch World / Nintendo