[BitSummit 4th] Dragon Fang coming to Nintendo 3DS
Dragon Fang is the name of a rogue-like released in 2014 on smart devices (iOS and Android), and it looks like it's coming to the Nintendo 3DS. This piece of news comes from the official website of BitSummit 4th, which lists it for iOS, Android, and the Nintendo 3DS.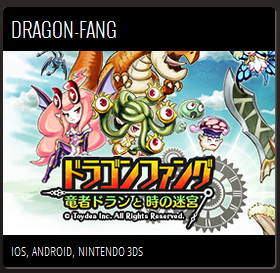 Unfortunately, that's pretty much all we know about this Nintendo 3DS version of Dragon Fang, as the BitSummit 4th page is completely void of details (not even a single screenshot). If you're interested, you can check out the trailer for the smartphone version of the game:
Weshould be getting proper details by the end of the week. In the mean time, our Upcoming Releases page has been updated!
Source: BitSummit 4th