Splatoon: two new weapons to be added in a few hours (Octobrush / N-ZAP89)
During the Splatoon Direct, in May, Nintendo announced that new content (map and weapons) for Splatoon would be added regularly to the game. The point is obviously to keep players interested, so that they keep on playing without getting bored with the same weapons and maps (even though everything was simply locked away on the disc, so far).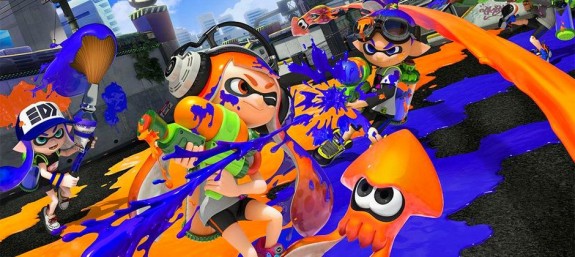 But this week, things were a bit different than usual. There was no new content on Wednesday (which may be due to recent events and the near-total media blackout for Nintendo), but there will be some on Saturday (at the usual time). This time around, we're getting not one, but two new weapons:
– Octobrush: comes with the Squid Beacon and the Kraken;
– N-Zap89: comes with the Sprinkler & Inkstrikes.
Here's some screenshots / artworks for those two new weapons:
Those two new weapons will be added at the usual time, tomorrow:
– Europe: 4AM
– UK: 3AM
– North America (EDT): 10PM (July 17th)
– North America (PDT): 7PM (July 17th)
– Japan: 11AM
As a bonus, here's a video for Arekkz Gaming getting to play with Tsubasa Sakaguchi:
Also, don't forget: the second North American and European Splatfest starts tomorrow!