Splatoon: Global Testfire demo, free DLC, Splatfests, and more
Today, Nintendo revealed quite a lot of information during the Splatoon Direct. You can check out the recording by clicking here, if you're looking for all the details. In this post, we'll focus on the new info, like the Global Test Fire demo, the free DLC and more!
Global Test Fire demo
During the Splatoon Direct, Nintendo announced a demo version for Splatoon, called Global Testfire. It is now available for download on the Nintendo eShop in Europe, Japan, and North America.
With this demo, players can take part in four-on-four Turf War battles online… but only during certain periods of time. Here's the times for the first stress test (each one lasts 1 hour):
– Europe: Saturday, May 9th at 5AM / 1PM / 9PM
– UK: Saturday, May 9th at 4AM / 12PM / 8PM
– North America (East): Friday, May 8th at 11PM / Saturday, May 9th at 7AM / 3PM
– North America (West): Friday, May 8th at 8PM / Saturday, May 9th at 4AM / 12PM
– Japan: Saturday, May 9th at 12PM / 8PM and Sunday, May 10th at 4AM
– Australia: Saturday, May 9th at 1PM / 9PM and Sunday, May 10th at 5AM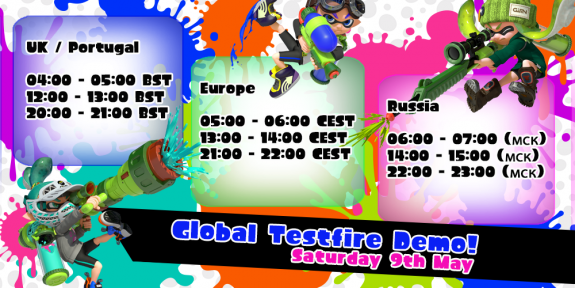 The demo requires 586MB of free space.
Special offer – Europe
In Europe, if you download the Global Testfire demo for Splatoon, you can get a 10% discount on the full game. The game alone will cost 39.99€ / 34.99£, but if you download the demo, you will be able to get it for 35.99€ / 31.49£.
Offer available until June 4th, and only works if you download Splatoon from the Nintendo eShop.
Turf Wars
During the Splatoon Direct, Nintendo gave some additional details about the Turf Wars. Nintendo explained that there's two stages refreshed every two hours (with an official announcement in-game to sound the changes). What's more, after each match, the teams are randomly shuffled.
That means that you will need to master all weapons (as some of them are better suited to certain maps than others), but also to be careful: your teammates in one game may well end up as your opponents in the next one!
Free DLC after launch
Splatoon will launch with the following maps:
– Urchin Underpass
– Saltspray Rig
– Walleye Warehouse
– Blackbelly Skatepark
– Arowana Mall
But more maps will be made available regularly in the following weeks. But that free DLC isn't just for maps: new weapons, game modes and more will also be added. One of the new Ranked Battle mode is called "Tower Control": by standing on a tower, players make a tower move towards the enemy base. The team will therefore have to protect that player against the opponents, who will do anything to take control of the tower.
What's more, Nintendo will also release a major Software update on August, which will add the following:
– two matchmaking options: team battle (you can form a four-person teams with friends, and take on other teams); friends battle: you and 7 of your friends can join up and take part in four-on-four battles. With this option, you can pick up any stage you want, and you can customise the rules.
– New battle mode (called Rainmaker);
– Additional gear for your character.
Super Smash Bros. for Wii U – Mii costumes
Nintendo will release several costumes for Mii Fighters in Super Smash Bros. for Wii U (an Inkling Hat and an Inkling Set). Those will be released this Summer worldwide.
In North America, players who buy or pre-order the game at GameStop (online or in-store) will get a download code, allowing them to download those costumes for free.
Splatfests
In order to keep players interested, Nintendo will not only release free DLC on a regular basis: they will also have special events called Splatfests. During those, questions will be posed to players, such as "Do you prefer cats or dogs?". Players will then have to choose a side and represent it in battle. Players who rank high enough will be able to get two Super Sea Snail, that can be used to upgrade gear.
NB: the rankings in Splatfests are separate from the regular rankings.
The first Splatfest will take place on:
– Europe: June 27th, 7PM to June 28th, 7PM
– UK: June 27th, 6PM to June 27th, 6PM
– North America: June 20th
The theme will be "Do you prefer to Rock or Pop music?".
Splatoon cover plates (Europe / Japan)
In Europe and Japan, Nintendo will release Splatoon cover plates for the New Nintendo 3DS. Those will be released on May 28th in Japan (2 000 Yen) and in July in Europe.
Nintendo 3DS Theme (Japan)
On May 28th, Nintendo will release a Splatoon Theme for the Nintendo 3DS in Japan. It will cost 200 Yen.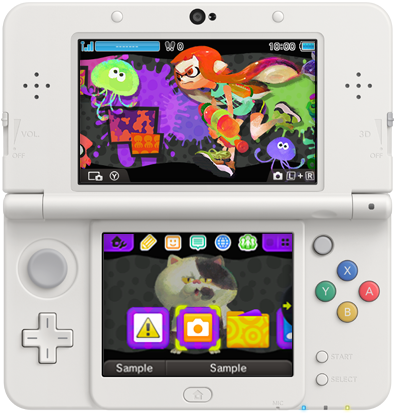 Screenshots / Artworks
Finally, here's various screenshots / artworks for the game:
Finally, some random details: the game will apparently include in-game product placement and advertising (it may be the amiibox box).
Splatoon (Wii U) will come out on May 28th in Japan, and May 29th in Europe and North America.
Source: Nintendo