Yo-kai Watch 2: list of all the passwords, QR Codes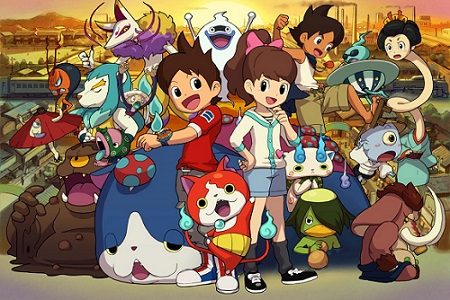 Update (April 7th, 2017): added third gallery of QR Codes for Yo-kai Watch 2 from the Yo-kai Watch anime series. Also, don't miss forget to download the latest update if you haven't already!
***
Just like the original, Yo-kai Watch 2: Bony Spirits / Fleshy Souls is one of those games where you can get quite a lot of bonus contents by scanning various QR codes and entering various passwords. On this page, we've rounded up all the QR Codes we've been able to find, from various sources: the game itself, the anime series, toys, and more. Make sure to check out the source links below for credits!
First, some explanations on where to scan QR codes and redeem passwords in Yo-kai Watch 2: Bony Spirits / Fleshy Souls:
QR Codes: they're scanned at the Piggleston Bank (Uptown)
passwords: you have to enter tham at the post-office
(You will have to progress far enough in Yo-kai Watch 2: Bony Spirits / Fleshy Souls to scan QR Codes and use passwords).
First, here's the list of regular passwords (NB: case sensitive!):
MYFR13NDS! – Five-Star Coin
5P01NTST@R – Five-Star Coin
friends – Five-Star Coin
J1B@NY@N! – Five-Star Coin
SP@RKL1NG! – Glitzy Coin (NA-only?)
SP@RKL3S! – Glitzy Coin (EU-only?)
LCK2WH15PR
3V3RYWH3R3
NY@ND3RFUL
GL1TZYGL@M
Next, here's the QR Codes from episodes of the anime series:
The next set of QR codes are from Yo-kai Watch toys:
Want some QR codes for Fruit Nyan, Fuyunyan, Darknyan, Jet-nyan, Buchinyan, Robot Yo-kai!, Special Coins? Want to change Jibanyan's Soultimate Attack? Those QR codes are for you then! (Thanks, Watch of Yo-kai)
Next, here's some QR codes for 5-Stars Coins, but also Hovernyan, Jibakoma, and a Cheerful coin:
Next, QR codes for Wondernyan, Red Coins, Green Coins, Orange Coins, Yellow Coins, Light Blue Coins, and various other things:
Here's some QR Codes for Moon, Flower, and Travelers coins:
Want even more QR codes? The following links have plenty of them:
NB1: all the QR codes from Yo-kai Watch can be used in Yo-kai Watch 2: Bony Spirits / Fleshy Souls!
NB2: we are still updating this page, adding more QR codes and codes. Come back later for more!
Credits list: Reddit
[This page is part of our Games Extras section]