Taiko Drum Master: Atsumete Tomodachi Dai Sakusen! – First details and screens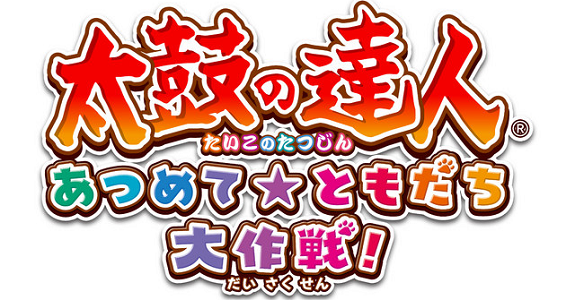 Last week, during a livestream, Bandai-Namco announced Taiko Drum Master: Atsumete ☆ Tomodachi Dai Sakusen! (the third entry in three years for the Wii U). Today, the official website was launched (click here to access it!), and Famitsu revealed the very first details and screenshots for the game.
For this third entry on Wii U, Bandai-Namco added a brand new game mode called Tomodachi Dai Sakusen (lit. "The Great Friend Operation"). You get to play as Kacchan, who has to get lots of friends (who will then hang out at the Wada House): you can do so by performing songs with them, which allows you to build your Nakayoshi Gauge (lit. : Good Friends Gauge).
Here's some features confirmed:
Mecha-Don Gasha: a lottery, allowing you to unlock songs and costumes
Baton Touch Ensou: 4 players perform the same songs together
Intro Don: players have to guess the title of a song just by listening to the intro
Costume changes
Here's the very first screenshots for the game, as well as a look at the goodies included in the Special Anniversary Box:
Head after the break for the tracklist!
J-Pop

"Oh! Rival" (Case Closed: Sunflowers of Inferno)
"360 Degrees" (Doraemon: Nobita Drifts in the Universe)
"OLA!!" (Crayon Shin-Chan: My Moving Story! Cactus Large Attack!)
"Muteki no Girlfriend"
"Anata ni Koi wo Shite Mimashita"
"Hello, World!"
"Netsujou no Spectrum"
"RPG"
"Ai wo Komete Hanataba wo"
"Ai Uta"

Vocaloid

"Karakuri Piero" (40mP)
"Tokyo Teddy Bear" (Neru)
"Imitation Black" (SCL Project [NatsuP] feat. VanaN'Ice)

Anime

"Day x Day" (Gintama)
"Hard Knock Days" (One Piece)
"Jiriki Hongan Revolution" (Assassination Classroom)
"Ashita no Hikari" (World Trigger)
"Kaze" (Naruto Shippuden)
"Dream Parade" (PriPara)
"Getta Ban Ban" (Pokemon X / Y)
"Lapis Lazuli" (The Heroic Legend of Arslan Warriors)
"Believe in Yourself" (Baby Steps)
"Miracle Go! Princess Pretty Cure"
"Database" (Log Horizon)

Video Games

"God Mission Series Theme Song" (Dragon Ball Heroes)
"Brave Sword, Braver Soul" (Soulcalibur II)

Variety

"Rainmaker" (New Japan Pro Wrestling Kazuchika Okada Entrance Theme)
"8.6-Second Bazooka" (Lassen Gorelai)
"Attakain Dakara"

Classic

Namco Original
Taiko Drum Master: Atsumete ☆ Tomodachi Dai Sakusen! (Wii U) comes out on November 26th in Japan.