Minecraft: Super Mario Mash-Up Pack coming next week, retail release next month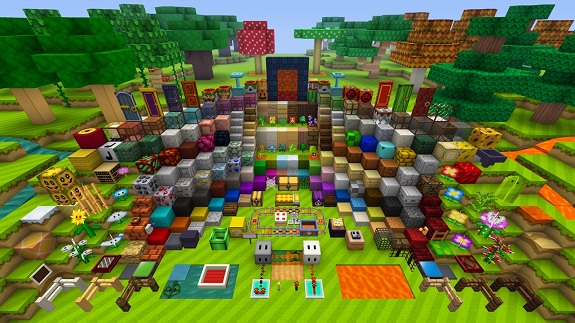 Back when the Wii U version was announced, in December, it was confirmed that Nintendo and Mojang were collaborating in order to bring "new content for Nintendo fans". That was obviously a teaser for some sort of content based on Nintendo IPs, for Super Mario for example.
And today, Nintendo confirmed the news: the Super Mario Mash-Up Pack is coming out next week to Minecraft: Wii U Edition, on May 17th (North America) / May 18th (Europe, Japan) to be more precise.
The update will include:
new skins (there's 40 of them in the pack);
a Super Mario-themed pre-made world;
a set of Super Mario-themed music (15 pieces of music from Super Mario 64);
all new item textures based on the Super Mario Bros. series.
The new content is inspired by various Super Mario Bros. games, including Super Mario World, Super Mario 64, and Super Mario Sunshine. Here's some of the characters you will be able to play as: Mario, Luigi, Peach, Daisy, Toad, Yoshi, Toadette, Birdo, Bowser, Wario, Waluigi, Shy Guy, Kamek, Koopa, Diddy Kong, Dr. Mario, or even all seven Koopalings.
Here's a trailer and screenshots showcasing some of the content from the Super Mario Mash-Up Pack for Minecraft on Wii U:
Also, Nintendo announced that retail version of Minecraft: Wii U Edition (which includes the Super Mario Mash-Up Pack) will launch on June 17th in North America. Unfortunately, we don't know when Europe and Japan will get this physical version of the game, but there's no doubt an announcement will come within the next couple of weeks.
In the mean time, here's the boxart for North America:
Our Upcoming Releases page has been updated!
Source: Nintendo PR / Nintendo