Investor Briefing (Oct. 2016) – Kimishima on major 3DS titles for the holidays, more to come
During the usual meeting with investors, which always follows the presentation of the latest financial results, Nintendo talked about the major Nintendo 3DS titles for the holiday season.
First, Tatsumi Kimishima started by explaining that this Fiscal Year, the company's major product launches are concentrated in the second half.This is often the case (since the holiday period is by far the most important for Nintendo), but it's even more the case this year.
Nintendo's goals haven't changed: keep introducing major titles in order to reach a broader audience (including women and children). Such titles include:
For Japan, Nintendo mentions two key titles:
Miitopia: announced during the previous Nintendo Direct presentation. We still don't know anything about it at all, but Nintendo is still planning to release it this year, and will properly reveal it at a later date;
Momotaro Dentetsu 2017: Tachiagare Nippon!!,to be released on December 22nd. Tatsumi Kimishima mentioned a "great response" to that game when it was announced.
There are other key titles releasing this year in Japan, including Monster Hunter Stories (already released) and Yo-kai Watch 3: Sukiyaki (on December 15th).
According to Kimishima, Nintendo is now able to reap the benefits of the large install base of the Nintendo 3DS. As a result, the company expect this business to maintain its strong momentum until April 2017. He also mentions the attractive price point, and titles that appeal to fans of casual games, which is why they are focusing on promotional activities to reach women and children.
After that, he showed the following slides, featuring all the announced Nintendo 3DS titles releasing in October or later (including third-party titles):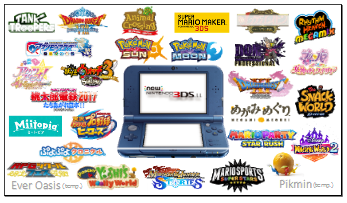 For Tatsumi Kimishima, this proves that the Nintendo 3DS has an "incredible variety of titles in store" (that appeal to a wide range of people)… with more to come. He explained that Nintendo was currently "continuing development efforts on a number of other exciting titles". How many, and what kind of titles, he didn't say unfortunately.
Source: Nintendo