Fire Emblem news (Feb. 10): Fire Emblem Fates sale in Japan / Genei Ibun Roku #FE artbook
Fire Emblem Fates sale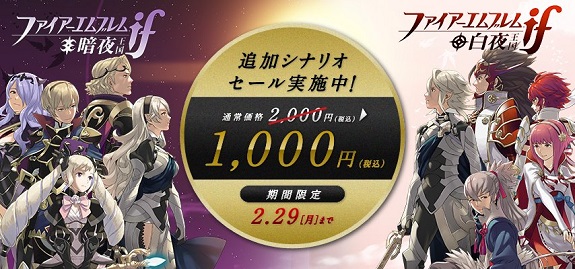 In Japan, a special sale for Fire Emblem Fates went live in Japan. Until February 29th, the second and third route for Fire Emblem Fates will be available at half-price (1 000 Yen), via the Nintendo eShop. That way, you will be able to get all routes for only 2 000 Yen, instead of 4 000. If you haven't bought one (or even both), now is the time to do so, as DLC is very rarely discounted!
The routes on sale:
Conquest (if you own Birhtright)
Birthright (if you own Conquest)
Revelation
Source: Nintendo
Genei Ibun Roku #FE
On February 26th, Kadokawa will release the official artbook for Genei Ibun Roku #FE, called Genei Ibun Roku #FE Visual Artworks. It features 336 pages of never before seen illustrations from development, including screenshots, anime cutscenes, cut weapons, and much more. It costs 3 780 Yen (on Amazon).
This artbook includes:
all the artworks by toi8 (the chara-designer)
artworks for the Performers, Mirages, weapons, backgrounds, props, and more
photos of Ryouhei Kimura, Inori Minase and the other major voice actors (PHOTO SESSION)
reproduction of Tsubasa Oribe's "Weekly Young Rabbits Gravure" and Maiko Shimazaki's legendary "My COMPLEX" magazines, seen in the game;
all the dialogues from the main story and the sub-stories
and more…
Here's the cover for Genei Ibun Roku #FE Visual Artworks:
Talking of Genei Ibun Roku #FE, the Vocal Collection album went on sale today in Japan. To celebrate, avex uploaded the music video for "Reincarnation" by Kiria (voiced by Yoshino Nanjou), which is from the game itself:
Finally, here's another Genei Ibun Roku #FE card from Fire Emblem 0:
Genei Ibun Roku #FE (Wii U) comes out later this year in Europe and North America.
Translation comparison
Kantopia has posted another translation comparison for Fire Emblem Fates. This time, it's for the amiibo event dialogue for Marth: click here to check it out!
LINE
If you follow Nintendo on LINE, make sure to check your messages: Toad has been sending various illustrations, and even some wallpapers for your smartphone!
Source: Nintendo
Thanks PushDustin (Source Gaming) for the help with translation.