Yo-kai Watch: almost 1 million tickets sold for the second movie, Yo-kai Watch Busters update
Yo-kai Watch movie
On Saturday, the second Yo-kai Watch movie (called Yo-kai Watch: Enma Daioh to Itsutsu no Monogatari da Nyan!) came out in Japan. It didn't do quite as well as the first one, as "only" 974 557 tickets were sold during the first two days. It generated 1 057 808 800 yen (roughly $8.7 billion) in revenue.
In comparison, the first movie sold over 1 million tickets… even before it came out. It also generated over 7.6 billion in revenue, but that's for all the weeks it was in theatres.
Fun fact: this second Yo-kai Watch movie actually sold more tickets than Star Wars: The Force Awakens, but only during those two days (Saturday and Sunday). The latest Star Wars movie opened on Friday, so it sold more tickets on the Friday-Sunday timeframe (and generated more revenue, even during the Saturday-Sunday timeframe).
Source: Mantan Web
Via: ANN
Yo-kai Watch Busters
On December 11th, Level-5 released an update for Yo-kai Watch Busters (Ver. 2.0.0). It was the Getto-gumi version, with quite a bit of additional content. And last week, the company released another update for the game It brings it to Ver. 2.1.0, with only one notable change: players can now transfer their save data to Getto-gumi up to three times.
To download this update, you have three options:
launch Yo-kai Watch Busters Aka Neko-dan / Shiro Inu-tai from the Home Menu, while being connected to the internet;
search for Yo-kai Watch Busters Aka Neko-dan / Shiro Inu-tai on the Nintendo eShop;
use the option on the Nintendo eShop settings page.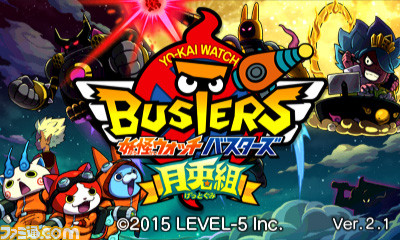 Source: Famitsu