The Legend of Zelda: Tri Force Heroes – Full JP website open, gameplay clips, filesize, details
In the past few days, Nintendo has shown a lot of The Legend of Zelda: Tri Force Heroes with an overview video, some screenshots ,and some artworks. They also started sharing various pictures on Twitter: click here to check out all those revealed so far!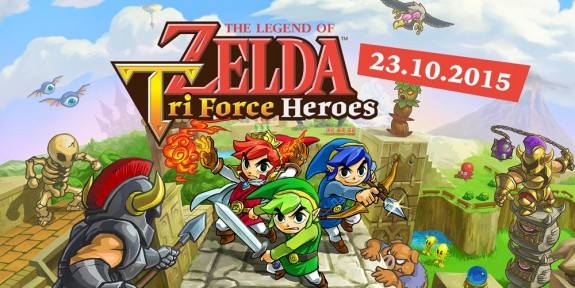 And today, the company finally opened the full website for the game (though one section remains closed for now).
First, here's some "technical" details about the game itself:
Filesize: 1GB (8 200 blocks)
Players: 1-3
Save data files: 1
3D Visuals: Yes
Multiplayer: Co-op (3 players), VS (2 to 3 players). Playable via local multiplayer, online multiplayer, and Download Play.
Online features: Co-op and VS.
Miiverse: Yes
SpotPass: Yes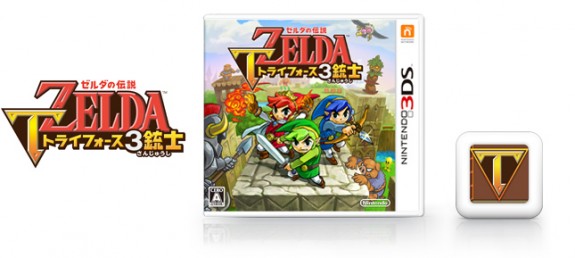 On the website, Nintendo uploaded several gameplay clips showcasing the various elements of the game: mutliplayer, online multiplayer, costumes and more. Here's a round up of all clips, in one video:
The website also has some details about the costumes. First, we learn that there's a total of 36 costumes in the game, and of course, Nintendo hasn't revealed them all just yet.
Here's some examples:
Bomb costume: allows you to transform regular bombs into big bombs
Kokiri costume: allows you to shoot three arrows at once with the bow
Samurai costume: allows you to use a big spin attack
Knight costume: allows you to shoot beams from your sword
Goron costume: allows you to swim in lava without getting hurt
Tingle costume: gets you back on land if you fall into a pit
Leopard costume: allows you to run faster
Zora costume: allows you to swim faster
Finally, we get a look at some of the characters:
King Curlking: he's looking for heroes to avenge his Princess, cursed by an evil witch called Sister Lady;
Princess Frill: she has been cursed by the evil witch, and stays holed up in her room;
Madame Taylor: a very famous tailor, known throughout the Kingdom and beyond for her clothes, which are said to contain some sort of mysterious powers;
Madame Taylor's apprentice: you can go see him for the Clothes Encyclopedia and Materials Compendium;
Orback: leader of the soldiers tasked with avenging the princess;
Sister Lady: the evil witch who placed a cursed on the Princess. It looks like she know Madame Taylor.
Here's some screencaps from the website:
The Legend of Zelda: Tri Force Heroes (3DS) comes out on October 22nd in Japan, and October 23rd in Europe and North America.