Splatoon: Famitsu preview (March 31st)
A few weeks ago, Famitsu started a series of bi-weekly articles for Splatoon, with new info and pictures revealed every time (along with some fan-art). Even though those mostly consist of a repeat of the info revealed via the official Twitter account, they generally come with some brand new details every time.
And this week, we're getting one of those articles: it's focused on multiplayer, and more precisely the Splat Zones (the Ranked Battle Mode revealed last week along with the new batch of previews for the game). Unfortunately, we don't know if Famitsu has new information about that mode, or if it will be a repeat of what was revealed in the previews last week.
Here's the preview for Famitsu magazine, coming out this Thursday in Japan: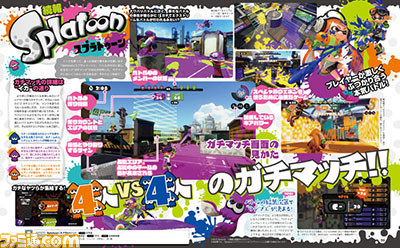 Splatoon (Wii U) comes out in May, worldwide.
Source: Famitsu