Pokémon news (March 30th): Rayquaza Event (Pokémon Shuffle) and more
Pokémon Shuffle
Today, a brand new update for Pokémon Shuffle was released. To get this version 1.1.7, you will need to use the in-game check-in function, as usual. It allows you to get access to a brand new event, featuring Rayquaza (and teased during the Pokémon Get☆TV show in Japan, yesterday). Just like the previous one, this challenge is only available for a limited time: until April 13th (6AM UTC). The first time you beat it, you'll receive a jewel as a reward.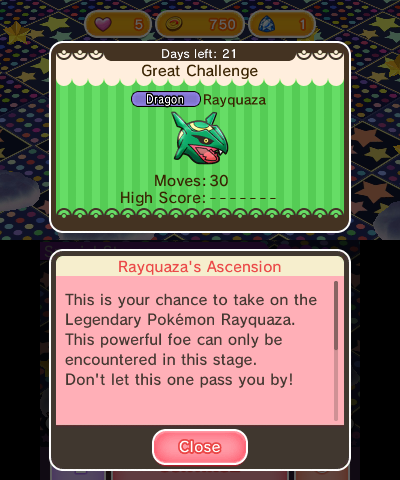 Pokémon Omega Ruby / Alpha Sapphire
A quick reminder for people with a Japanese copy of Pokémon Omega Ruby / Alpha Sapphire: they have until tomorrow to get their special Fennekin (based on Serena's, from the anime series). It holds a rare item (the Destiny Knot), and has a high Cute stat (for contests) The password for this distribution is: SERENA01.
Source: Serebii