Pokémon news (March 26th): Shiny Charizard (UK), promo movie
Charizard distribution
Starting April 3rd, players living in the UK will be able to get their hand on a Shiny Charizard (holding a Charizardite Y) for Pokémon X / Y and Pokémon Omega Ruby / Alpha Sapphire. To get it, they'll have to go to one of the many GAME stores across the country, and ask for a download code. But be careful: the distribution only last until April 19th!
Once you have your download code, you have to use it before June 2nd. Here's how to get your Pokémon:
Select MYSTERY GIFT on the main menu, and then RECEIVE GIFT. Select YES to confirm.
Select GET WITH CODE, and then select YES to confirm.
Enter your code.
Resume the game, make sure you have an empty space in your party, and then speak to the delivery girl in any Pokémon Center to receive your Shiny Charizard!
Be sure to save your game!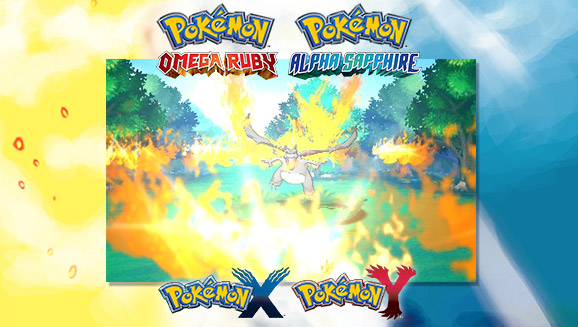 Pokémon Omega Ruby / Alpha Sapphire – Promotion movie
Yesterday, Nintendo of America uploaded a live-action promotion movie for Pokémon Omega Ruby / Alpha Sapphire on its Family Channel.
Here it is:
Source: The Pokémon Company