Pokémon news (August 28th) – Pokémon Shuffle: Rayquaza back for one week, more
Pokémon Shuffle
Today, a "new" event stage for Pokémon Shuffle went live: it's last re-run for Rayquaza. If you're planning on taking on that Pokémon, make sure you play the stage before September 4th (6AM UTC)!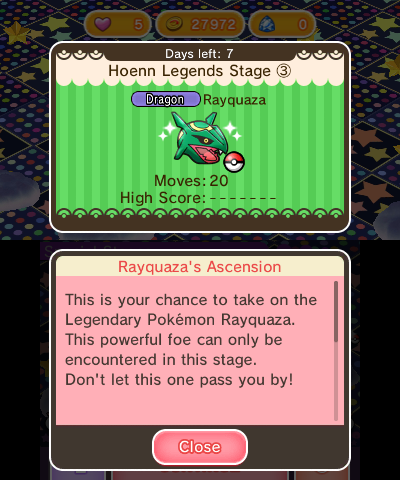 Also, don't forget that plenty of passcodes for the game have recently been revealed for the game, thanks to the launch of Pokémon Shuffle Mobile on mobile platforms. Click here to get the list of all current passcodes for the game!
Source: Serebii
Battle Competition
Yesterday, registration for the CoroCoro Challenge started, in Japan. For more details, please click here!
Source: Serebii