Nintendo Selects: new titles to be added on March 11th in North America
A few days ago, during a meeting with investors, Tatsumi Kimishima talked about the positive impact of Nintendo Selects on the sales of specific games (such as Nintendogs). He announced that a similar range would be launched in Japan (which was announced the following days: the Happy Price Selection), and his wording implied that North America would also get something similar.
There's already Nintendo Selects titles in North America, but only for Wii. But it turns out that the Nintendo 3DS and the Wii U will also get the discount treatment, next month. Yesterday, Video Games Plus (a major retailer from Canada) announced on Twitter that new Nintendo Select titles would be released on March 11th in Canada. The price will be CA$29.99, which would give $19.99 in the United States.
Here's the list of games to be added to the Nintendo Selects Range:
Nintendo 3DS
Donkey Kong Country Returns 3D
Mario Party: Island Tour
Yoshi's New Island
The Legend of Zelda: Ocarina of Time 3D
Wii
Donkey Kong Country Returns
Super Mario All-Stars
Super Mario Galaxy 2
Wii U
Donkey Kong Country: Tropical Freeze
Super Mario 3D World
NES Remix Pack
Pikmin 3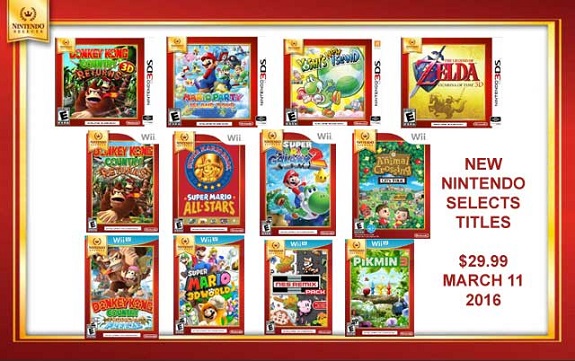 Nintendo hasn't made an announcement yet, but there's no doubt we will get one within the next few days! Unfortunately, we don't know if the Wii and Wii U titles will also be launched in Europe and Japan.
Source: VGP