Nintendo Investor Briefing (Oct. 2017): Kimishima on smart device business
The first topic Tatsumi Kimishima tackled during the latest Nintendo investor briefing is the smart device business. He began by talking about the recently revealed Animal Crossing: Pocket Camp, which is now available in Australia and releasing worldwide in late November. Unfortunately, he didn't say anything new about it.
As for Super Mario Run, Kimishima announced that it had finally crossed the 200 million downloads threshold worldwide, with Japan only accounting for less than 10% of that total. The game was launched in many countries around the world, and allowed Nintendo to reach people not previously reached by Nintendo's dedicated game platforms.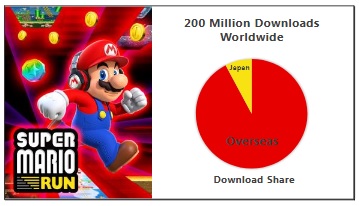 The release of the major update in September (Ver. 3.0) led to a significant increase in weekly users, and caught the interest of both players who had already bought the full game, and those who had downloaded it for the first time. Unfortunately, even the special discount offered for a couple of weeks after the release of the update wasn't enough to allow the game to reach an acceptable profit point.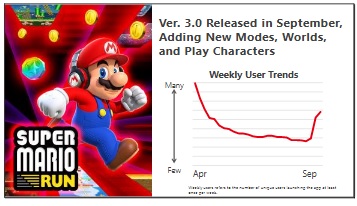 But for Tatsumi Kimishima, it's not a complete failure: Nintendo did learn a lot in terms of game development and deployment with Super Mario Run, and that's something they fully plan to take advantage of moving foward.
It's a different story for Fire Emblem Heroes. Nintendo and Intelligent Systems listed to players feedback and provided continual updates (something Super Mario Run did not get). As a result, the company is on track to meet its overall business objectives (including the profit ones) with this game.
In order to keep players interested, Nintendo and Intelligent Systems have been running large-scale events, adding many characters, adjusting gameplay, and running various promotional campaigns. The result? An increase in active users.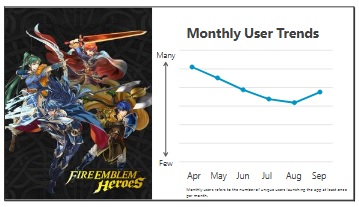 Also, since launch, Nintendo has observed an increase in the share of sales for overseas market. At launch, the majority of sales came from Japan, but it's no longer the case (though Japan still accounts for 46% of sales on its own).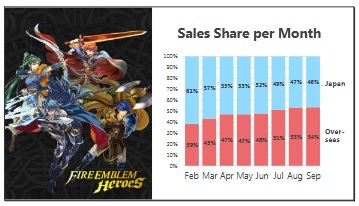 In order to further expand overseas sales, Nintendo is planning to add a new language by the end of the year (traditional Chinese) and will launch the game in more countries: Hong Kong, Taiwan, Macao, Thailand, and Singapore.
Finally, Kimishima reiterated Nintendo's plan to keep existing app updated with new content, and launch 2 to 3 new apps/games a year.
Source: Nintendo Investor Briefing (October 2017)