Nintendo Investor Briefing (Oct. 2017) – Kimishima on Nintendo 3DS sales
When it came to Nintendo 3DS sales, Tatsumi Kimishi was expected to mention the New Nintendo 2DS XL (launched in July) during the latest Nintendo Investor Briefing. A graph was shown, with sales from the beginning of the year to the second week of October. As you can see for, the New Nintendo 2DS XL provided a healthy boost in sales (though the biggest one is due to Dragon Quest XI: Echoes of an Elusive Age in Japan):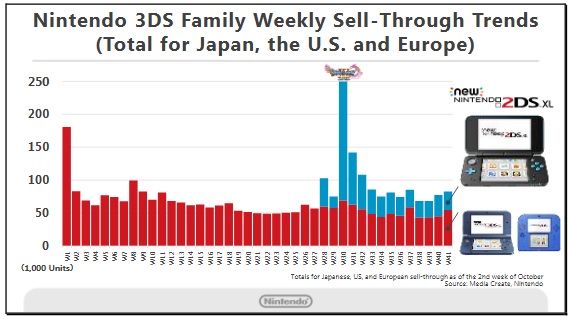 The interesting thing about the Nintendo 3DS is that the release of the Nintendo Switch doesn't seem to have had a negative impact on sales, and those have remained stable so far: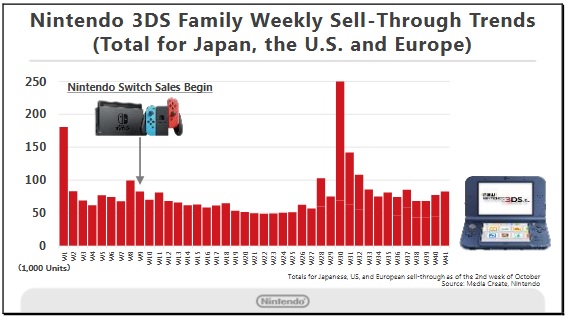 The following graph shows Hardware and (first-party) Software sales in the United States, for the current Fiscal Year, compared to the previous two Fiscal Years. Hardware sales have fallen below both FY16 and FY17, and we can clearly see the positive impact of Pokémon GO on Nintendo 3DS sales last year. Now that this boost is over, sales have dropped… though at the very least, Software sales do remain above their FY 2016 level.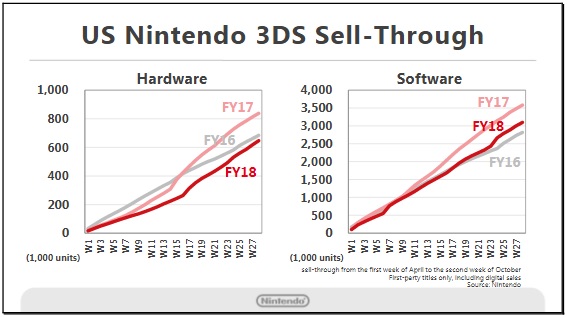 We can see a pretty similar trend for the Nintendo 3DS in Europe, with sales not as good as previous years but still "firm" according to Nintendo.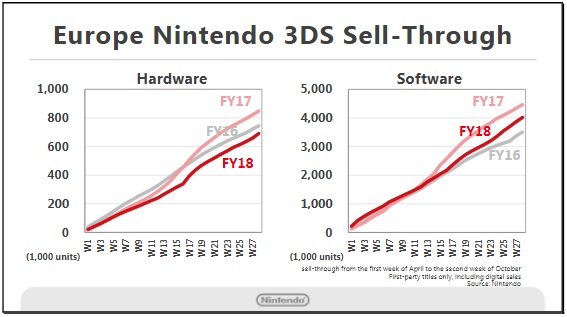 On the other hand, the situation in the Japanese market is quite different. Thanks to the release of Dragon Quest XI: Echoes of an Elusive Age and the New Nintendo 2DS XL, Hardware sales are actually up Year on Year (though the gap with FY17 has lessened in the weeks that followed those launches).
As for Software, despite Nintendo including third-party games in the graph, we can clearly see a drop in sales (especially compared to FY16).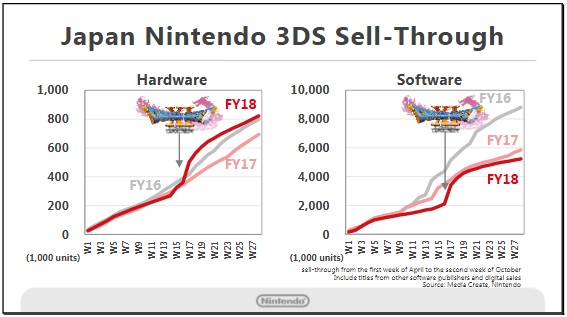 According to Nintendo, sales for the Nintendo 3DS sales in each region haven't experienced any significant drop (there is a drop, but it's nowhere near as dramatic as the one you would expect for such an old console, especially with the focus being on the Nintendo Switch), and the positive momentum the company was expecting is there.
In fact, total sales for the Nintendo 3DS are nearing 70 million units, and Nintendo is intending to fully leverage this sizeable installed base during the upcoming holiday season.
In order to maintain the momentum mentioned just above, Nintendo has been releasing new Nintendo 3DS games on a regular basis: Metroid: Samus Returns, Yo-kai Watch 2: Psychic Specters, Monster Hunter Stories, and more. And Nintendo has been doing so well in advance of the holiday period.
Of course, Nintendo also has key titles lined up for the rest of the year, such as:
Mario & Luigi: Superstar Saga + Bowser's Minions (already available)
Nintendo Presents: New Style Boutique 3 – Styling Star (out on November 2nd in Japan, and November 24th in Europe)
Kirby: Battle Royale (out on November 3rd in Europe, November 30th in Japan, and January 19th in North America)
Mario Party: The Top 100 (out on November 10th in North America, December 28th in Japan, and January in Europe)
But naturally, the main new release of this holiday period is Pokémon Ultra Sun and Ultra Moon, out on November 17th worldwide.
In order to maximise the business during the holiday period, Nintendo is going to rely on a "wonderful combination" of evergreen titles, and new releases. But that's not all: there's also new models/colours for the New Nintendo 2DS XL, such as the Pikachu one releasing alongside Pokémon Ultra Sun and Ultra Moon.
Source: Nintendo Investor Briefing (October)