Investor meeting: Nintendo talks about amiibo sales
During the usual meeting with investors, which always follows the presentation of the latest financial results, Nintendo talked about the sales of amiibo. First, Tatsumi Kimishima reminded investors that since the launch of the very first amiibo, back in November, over 80 amiibo figures have been released in Japan (compatible with over 25 games). As of December, over 31 million figures have been shipped worldwide.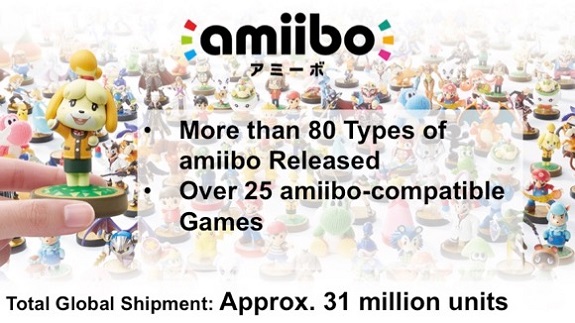 Tatsumi Kimishima revealed that during Q3 2015-16, a total of 9.9 million amiibo were shipped, which is an all-time high. Even though sales remained steady throughout the year, regardless of seasonality (due to the figures being more affordable than games), amiibo sold pretty well during the holiday period. For Kimishima, the constant presence of Nintendo characters in retail stores is definitive plus for all Nintendo platforms.
As for amiibo cards, 12.9 million cards were sold in Q3 2015-16 worldwide, and 21.5 million since launch (in July). Due to their low price (compared to the amiibo figures), many fans end up buying some "casually".
Next, Tatsumi Kimishima showed a graph with the latest shipment ratios by region for both figure and card-type amiibo. When it comes to figures, the Americas account for over 50% of total shipments. This is due to the Toys to Life category being well-known and understood in the United States. In that region, previously released amiibo keep on selling on a long period of time.
Things are quite different in Japan, where cards are by far the most popular. According to Nintendo, this is due to the strong sales of Animal Crossing: Happy Home Designer, one of the few compatible titles.
The graph below shows shipment ratios by region for figures, for Q1+2 and Q1+2+3. We can see a slight increase of shipments in Japan (while North America and Europe stayed pretty much the same), along with an overall increase in sales in Q3.
Wondering what figures were the most popular in each region? Check out the graph below to see for yourself!
United States: Super Smash Bros. series figurines, including those of third-party characters;
Europe: both iconic and new characters;
Japan: the Splatoon amiibo dominated sales.
As mentioned by Nintendo, sales trend vary a lot between regions, especially if you compare Japan with the rest of the world.
After that, Kimishima took a closer look at shipments in Japan, and more precisely those for the Splatoon figures. During Q1+2, Nintendo wasn't able to keep up with demand, and it naturally had an impact on sales. However, it all changed in Q3 when Nintendo finally able to ship enough Splatoon figures: as a result, sales more than doubled. According to Nintendo, the game and the amiibo were bought together during the holiday season.
To further increase sales, Nintendo will keep proposing new ways to use amiibo in games. Tatsumi Kimishima mentioned Mini Mario & Friends: amiibo Challenge, which started last week in Japan (click here for more details!).
Finally, Tatsumi Kimishima explained that Nintendo would keep on introducing new figures in the future… which should come as a surprise to nobody!
Source: Nintendo