Hyrule Warriors: Hyrule All-Stars coming to Nintendo 3DS, trailer
E3 2015 doesn't start until next week, but those past few days, many publishers have been announcing games left and right (including Nintendo, during the Nintendo Direct Micro last week). But it doesn't look like the reveal of Hyrule Warriors: All-Stars for the Nintendo 3DS is something that was supposed to take place today…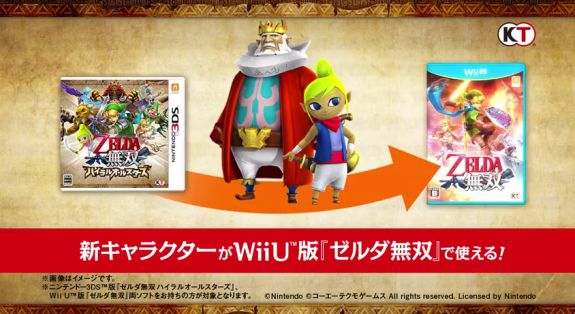 Hyrule Warriors: Hyrule All-Stars is the name of the Nintendo 3DS version of Hyrule Warriors, but right now, it's currently not known whether it's just a mere port (with additional content) or a brand new game. One thing's for sure though: the game is taking some cues from the Samurai Warriors Chronicles series.
In this game, you can control several characters during a battle (up to four in Samurai Warriors Chronicles 3), and you can switch from one the other using the touch screen (which also displays a handy map).
Apparently, all the characters from Hyrule Warriors are in, and since Tingle is seen on the boxart, it seems to imply that this All-Star version will come with all the DLC characters from the Wii U game. Tetra and the King of Hyrule are also playable, and you can actually unlock them in Hyrule Warriors on Wii U if you buy Hyrule Warriors: Hyrule All-Stars. It's quite likely they will also be sold separately.
Here's the trailer for Hyrule Warriors: Hyrule All-Stars:
Hyrule Warriors: Hyrule All-Stars will come out on Nintendo 3DS.
Thanks DoctorCupcakes for the heads up.