Fire Emblem Heroes: early details about next Software update (Ver. 3.0.0)
Update: the latest Feh Channel presentation has shared some more details about Ver. 3.0.0 of Fire Emblem Heroes. Check out this post for all the juicy details! More details about Ver. 3.0.0 itself can be found in this post!
***
This month, Fire Emblem Heroes will get yet another Software update, most likely Ver. 3.0.0 (unless the start of Book III is delayed to January, which isn't likely). And today, the developers shared some early details about that update, and more precisely the usual Weapon Refinery Update.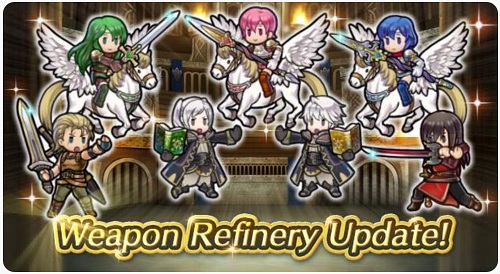 As usual, this Weapon Refinery Update will add some more character-specific weapon skills learnable at 5 ★:
Gladiator's Blade (learnable by Ogma: Loyal Blade)
Scarlet Sword (learnable by Navarre: Scarlet Sword)
Whitewing Blade (learnable by Palla: Eldest Whitewing)
Whitewing Lance (learnable by Catria: Middle Whitewing)
Whitewing Spear (learnable by Est: Junior Whitewing)
Tactical Bolt (learnable by Robin: High Deliverer)
Tactical Gale (learnable by Robin: Mystery Tactician)
Once you've obtained them, you will be able to upgrade them at the Weapon Refinery (available after clearing Book I, Chapter 13 and the second Intermission map (The Rite of Blades)).
Unfortunately, that's pretty much all we know about this new Software update for Fire Emblem Heroes. No doubt there will be a Feh Channel presentation to share more details about it within the next few days. As usual, we will have a separate post as soon as we have details, and the official patch notes will be added to this page as soon as they're available!
Keep an eye on the Events and Content Updates and Characters pages to keep up to date with all that's happening in Fire Emblem Heroes!
Source: Fire Emblem Heroes