Stella Glow: website update, additional details
Today, SEGA revealed the first actual trailer for Stella Glow, with a look at the story, characters and game systems. But the company also updated the official website with some additional pics and details (though more or less the same as those from the trailer).
First, they explain that chapters (at least, the first one!) are divided in two parts, and when those are completed, you move to the next one. The two parts are:
– Free Time: you have a fixed amount of time to do whatever you want, like exploring Capital City Lambert. You can search for items, take part-time jobs to earn a little money, go chat with your fellow knights to deepen your bond, and more. You can go "tune in" with the witches, so that they can learn new songs to use in battle. All these actions use one unit of time, with some exceptions: buying weapons at Bianca's shop, crafting at Franz's workshop and saving at the protagonist's home.
– Operation Time: you have battles and events, that are needed to progress in the story. What's more, there's also some special events, which will allow you to deepen the bonds with your characters.
Here's lots of screencaps from the official website:
Here's a small preview of the free 3DS theme that comes with all purchases of the digital version of the game: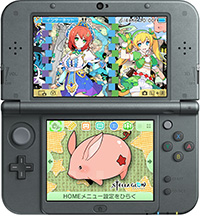 Stella Glow (3DS) comes out on June 4th in Japan and later this year in North America.
Source: Stella Glow / Siliconera