Return to PoPoLoCrois: EU release confirmed (eShop-only) with dual-audio, trailer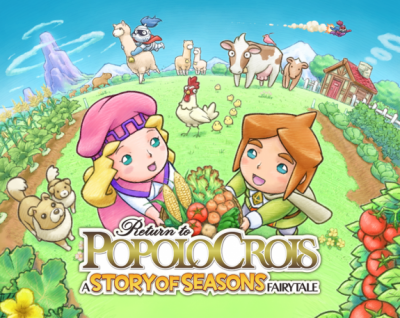 A few weeks ago, we learned from the Australian Classification Board that Marvelous Europe was planning to release Return to PoPoLoCrois in Europe. There was no official announcement at the time, but it was only a matter of time. And indeed, Marvelous Europe announced today that Return to PoPoLoCrois: A Story of Season Fairytale will come out in Q1 2016 in Europe and Australia.
Unfortunately, there's a catch for European players… Return to PoPoLoCrois: A Story of Season Fairytale will only be available via the Nintendo eShop in Europe. However, there's some good news: the European version (and most likely the North American one, too) will feature dual-audio, with both the original Japanese voices and the brand new English dub.
For those of you who never heard of this game before, it lets you play as Prince Pietro, who goes on a perilous quest in order to save the world from darkness. Along the way, he will meet plenty of colourful characters (who will help him), discover a lot of really strange creatures, and more.
Next, Marvelous Europe gives us some details about the story. On his 13th birthday, Prince Pietro gets to meet Marmela, the representative from a kingdom called Galariland. It's being ravaged by mysterious shadow creatures, who corrupt the soil. Since these strange events are also starting to occur in Popolocrois, the King asks Marmela to help them fight the creatures.
She recommends that Prince Pietro visits Galariland as ambassador, in order to witness the damage first-hand and see how the inhabitants are fighting back. But once he arrives there, the prince realises he cannot go back to Popolocrois anymore, and he is forced to take up residence in an abandoned farmhouse. Unfortunately for him, he isn't well known in that mysterious kingdom, so he will have to get by on his own at the beginning.
His goal: resurrect the Goddess Galariel, in order to drive back the darkness. It's only in doing so that he will be able to get back home. Of course, saving Galariland is not going to be an easy task!
Here's the latest trailer for Return to PoPoLoCrois: A Story of Season Fairytale on Nintendo 3DS. It introduces the main features (exploration, battles, farming), but also the female characters Prince Pietro can befriend (who will then come to your farmhouse and help you there), and more.
XSEED hasn't announced anything yet, but there's no doubt we should get some details about the North American release in the upcoming days. Unlike Europe, the game will get a physical release in North America, and should also feature dual-audio.
Return to PoPoLoCrois: A Story of Season Fairytale (3DS) comes out in Q1 2016 in Europe and North America.
Source: Marvelous Europe