Box Boy! sequel available in Japan; filesize, screenshots, and trailer
BoxBoy! is the title of a puzzle game by HAL Laboratory, which is known for two things: its extremely simple (yet really charming) graphics, and its extremely addictive gameplay. It was released in January in Japan (and April in Europe / North America), but a sequel has already been announced in Japan… in fact, it's already available on the Nintendo eShop!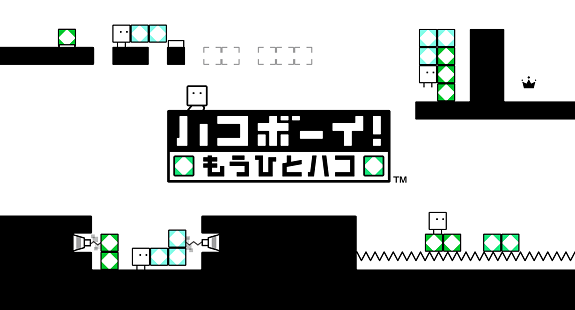 Called Hako Boy! Mou Hito-Hako (lit.: Box Boy! Another Box) is pretty similar the original. You still control Qbby, a really unique character who can make boxes, and then use them to solve puzzles and reach the end of levels. But this time around, there's a major difference: Qbby can make a second set of boxes, which completely changes things (in the original, if you tried to make another set of boxes, the first one would disappear).
This second set of boxes can be used to reach ever higher places, activate switches, block lasers, and more. It makes things both more simple and complex at the same time, as obviously, puzzles have been made with the two sets of boxes in mind.
Just like in the original, there's more to each level than simply reaching the exit. Indeed, there's crowns to collect: those can be used to purchase various extras, such as costumes. Obviously, this sequel features some brand new costumes, such as a cat, a maid, and more. And if you have a save data file for the original Box Boy! on your SD Card, you will unlock all the costumes from that game!
Box Boy! Another Box is already available on the Japanese Nintendo eShop, where it costs 680 Yen. To download it, you need 711 blocks / 88MB of free space on your SD Card. If you have a Japanese Nintendo Network ID linked to a Nintendo Account, you can purchase the game right away on this page!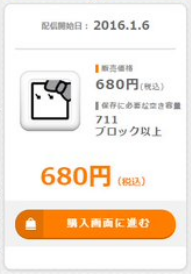 Here's the trailer for Box Boy! Another Box:
Here's some screenshots from the official gamepage:
Next… some more screenshots:
Finally, here's various screencaps from the official website (to be found after the break!):
Unfortunately, we don't know when Box Boy! Another Box will be released in Europe and North America, but there's no doubt we will get an announcement within the next few days/weeks.
Thanks Joe for the screencap!