Pokémon news (May 7th) – Pokémon Music Pokédex, Pokémon Shuffle, more
Update
Added a trailer for the upcoming episodes of the anime series, in Japan.
***
Pokémon Music Pokédex
Announced last month, the Pokémon Ongaku Zukan (lit. Pokémon Music Pokédex) is now available for download in Japan, though only for Android devices (Android 4.1 and up). As mentionned in that post, it offers users the possibility to buy music from the mainline Pokémon games (starting with Pokémon Red / Green, Pokémon FireRed / LeafGreen and the first half of Pokémon HeartGold / SoulSilver).
The app itself is free, and comes with 3 free tracks, but additional ones can be purchased for 120 Yen each. Unfortunately, you cannot transfer the tracks to your PC or any other device.
Its features are:
– unlimited playback;
– you can make the music loop;
– special interface inspired by a Pokédex;
– you can create your own tags;
– you can make medley with several tracks.
If you're interested in this app, you can download it via Google Play. It requires 18MB initially.
Here's various screencaps for this app:
Unfortunately, we don't know when/if The Pokémon is planning to release this app in Europe and North America.
Pokémon Shuffle
Now that the Banenite Competition is over, those who were among the top 10 000 players in Europe / 20 000 players in North America / 50 000 players in Japan can now receive their Banettite. If you didn't qualify, you will still get a Jewel. In both cases, you need to use the check-in feature in-game to get your prize, before May 14th, 6AM UTC.
Also, a brand new challenge was added today, and features Pinsir. It gives you the chance to catch this Pokémon, but you only have one try per day. It runs until May 11th, 6AM UTC.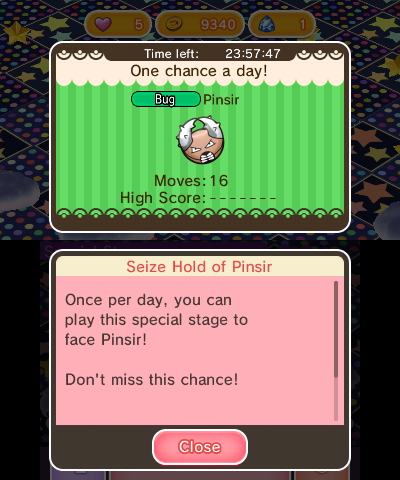 Pokémon TCG
Next, here's a trailer for the latest Pokémon TCG expansion, now available:
Pokémon anime series
Earlier today, The Pokémon Company uploaded a trailer for the upcoming episodes of the Pokémon XY anime series, in Japan.
Source: The Pokémon Company / Serebii