Nintendo x DeNA: Frequently Asked Questions
This morning, Nintendo and DeNA made a major announcement: the two companies are going to form a business and capital alliance, which will result in mobile games using Nintendo IPs,  as well as a multi-device membership service to be launched this year. In order to clarify things a bit, we've decided to put up this FAQ, to answer some of the most frequently asked questions about today's announcements.
If you have any additional questions, please let us know in the comments or on Twitter !
Please note that this FAQ was written for players, which means that we mostly do not mention any technical or financial details (like revenue split between the two companies, shares buy-out, etc.).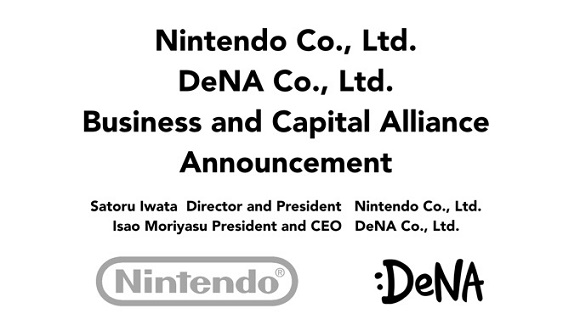 Question: What is this alliance, exactly?
It's business and capital alliance between Nintendo and DeNA ("a provider of mobile portal and e-commerce websites based in Japan. It owns the Mobage platform, which is one of the most popular cell phone gaming platforms in Japan", according to Wikipedia). It will result in:
– games for mobile platforms using Nintendo IP, developped jointly by Nintendo and DeNA;
– a multi-device membership service, usable on Nintendo platforms, but also PC, smartphones and more.
Question: Does that mean Nintendo is abandonning dedicated gaming platforms entirely?
Not at all. According to Satoru Iwata, Nintendo still hasn't lost its passion for dedicated gaming platforms. In fact, those mobiles games will supplement them, not replace them entirely. In its PR, the company states that with those mobile games, players will be able to "enjoy the unique kind of gameplay found only with Nintendo, [and then] they will have the opportunity to explore even more premium experiences on Nintendo's dedicated video game platforms."
For Nintendo, this alliance will allow the company to "extend its reach reach into the vast market of smart device users worldwide". Meanwhile, DeNA will get to "strengthen its gaming business at a global scale by leveraging Nintendo's IP".
Question: Will Nintendo keep on making games for the Nintendo 3DS, Wii U, and upcoming Nintendo consoles and handhelds?
Yes. Nothing will change on that front (at least in the near future).
Question: Will this alliance only be for Japan?
No, both the games and the membership service will be available globally, not just in Japan.
Question: What IPs will get mobile games in the future?
Pretty much any IP: Mario, Zelda, Animal Crossing, F-Zero, Metroid, Tomodachi Life. The only exception is the Pokémon series, due to the complexity of its ownership (though in that case, there has already been several Pokémon games and apps on smartphones and PC. Things are most likely going to remain the way they are.).
Question: What kind of games will be released on smartphones?
According to Nintendo, the games will be entirely new experiences optimised for smart devices, which immediately rule out the porting of already existing or upcoming Wii U or Nintendo 3DS games (mainly due to the controls).
Ports of mobiles games to Wii U or Nintendo 3DS (or any other upcoming dedicated gaming platforms from Nintendo) is also unlikely, though it is possible that special versions of mobile games optimised for dedicated gaming platforms (like the Puzzle & Dragons games on Nintendo 3DS) could be released in the future, but this is pure speculation on our part.
Question: What games have been announced so far?
Unfortunately, Nintendo didn't announce any specific games during the press conference, so we do not have any concrete examples.
Question: Who will make those games?
Those gaming applications will be developped jointly by Nintendo and DeNA.
Question: When will those game be released?
Since no game has been announced yet, we do not know when they will be launched. All we know is that the first ones should come out later this year.
Question: Is Nintendo going to add more and more Free 2 Play and mobile game mechanics in its console/handhelds games?
Not at all. Mobile games will be entirely separate from those on dedicated game platforms. Besides, Nintendo already does have Free 2 Play games on its consoles, and the company is likely to keep on making those in the future, in parallel to the mobile games with DeNA.
Question: Will DeNA be involved with the development of Wii U / 3DS games?
No, DeNA will not be involved with the development of games on Wii U / 3DS.
Question: Is Nintendo going to release its games on other platforms (like PC)?
No. Some brand new games using Nintendo IPs will be released on mobile platforms, but that's pretty much it. Nintendo has no plans to release The Legend of Zelda U on PC (or any other platforms) for example.
Question: Will Nintendo launch a Virtual Console service on other platforms like smartphones?
No. Satoru Iwata explicitely said that games on mobile platforms will be brand new games, optimised for those platforms, which excludes Virtual Console titles where controls would be an issue.
Question: What is the multi-device membership service about?
It is an account system that will be accessible on lots of different platforms: Nintendo consoles, smartphones, PC, and more. It will act as a bridge between the multiple devices.
No more is known about it at the moment, and although Nintendo didn't confirm it, it's most definitely going to be based on the already existing Nintendo Network ID.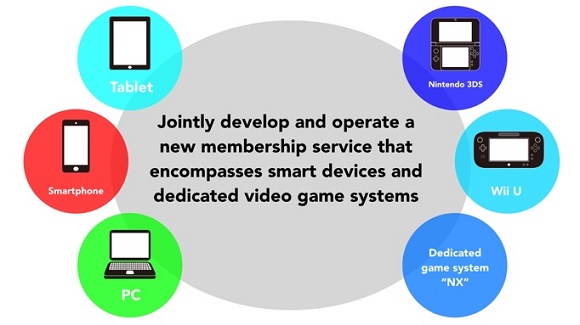 Question: When is the multi-device membership service launching?
This Fall.
Question: What is the NX?
The NX is a new game platform announced by Satoru Iwata during the press conference. We don't know anything about it for the time being, other than it will provide a "brand new concept". Is it a home console? A handheld? A hybrid? Something else?
More details will be announced next year.
Question: Will DeNA be involved with NX?
Other than the membership service that will be used on this new platform, DeNA shouldn't be involved with the NX project.
Source: Nintendo