Mario Party 10: Nintendo hosting a Virtual Launch Party tomorrow
Mario Party 10 comes out this Friday in North America (same day for Europe). To celebrate, Nintendo is going to host a "Virtual Launch Party" for the game on its social media channels (Facebook, Twitter, Instagram and more). It will take place tomorrow (March 18th) from 1PM PDT to 5PM PDT (4PM EDT to 8PM EDT), and with various virtual activities and a very special guest.
Players who take part in those activities on Twitter will be entered for a chance to be the winner of a Wii U and a Mario Party 10 + Mario amiibo bundle (there will be 5 winners). Nintendo will also select random winners at the end of each activity: they will receive a special gift that could very well include a Gold Mario amiibo.
To participate, all you have to do is use the #SweepsEntry hashtag, along with the designated hashtag (that will be revealed tomorrow).
Here's the list of activities:
1p.m. PT – It's Party Time
-Join us on Twitter to see if you can answer our quiz questions about Mario Party 10! Include #SweepsEntry and our designated hashtag with your answer to be eligible to win our "mystery" prize. We'll retweet the correct answers from you at the end of the hour.
-Learn interesting Mario Party 10 and Super Mario amiibo series Fun Facts in our Mario Party 10 Facebook photo album. Don't forget to share with your friends!
2 p.m. PT – Guess Who is Coming to our Party?
-Hint: He says "MUAHAHAHA" a lot and likes to stand on poorly constructed bridges over pits of molten lava.
-Update your Twitter profile picture to the special guest's command and tweet us @NintendoAmerica with #SweepsEntry and our designated hashtag to be eligible to win our "mystery" prize.
3:30 p.m. PT – Favorite Mario Party memory
– Share your favorite Mario Party memory with us on Twitter through photos, videos or tweets/comments. We'll keep the party going by retweeting some of you Mario Party animals!
-Answer our questions on Twitter with #SweepsEntry and our designated hashtag to be eligible to win our "mystery" prize.
5 p.m. PT – End
-We will finish off our Virtual Launch Party with our grand prize winner drawings. Five winners will be randomly selected and we will Direct Message them on Twitter during this hour.
-You must use #SweepsEntry and our designated hashtag (announced at 1 p.m. PT on March 18).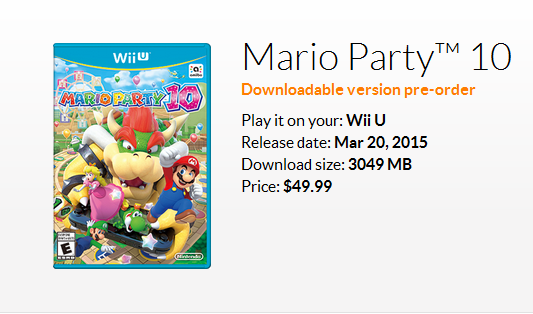 Unfortunately, only players living in North America (excl. Québec) will be able to take part in the sweepstakes.
Source: Nintendo