Nintendo: some sales data for France and Germany
Germany
According to Börse Online (who quotes data by GfK), the Wii U has sold 690 000 units since launch in Germany (a 17% marketshare). This is most definitely a pretty poor result, but quite surprisingly, it's not "enough" to make the Wii U the worst selling console in the country. Indeed, the Xbox One still hasn't caught up with it, despite strong support from third-party publishers.
[PS4] 2,800,000 (68%)
[WIU] 690,000 (17%)
[XB1] 600,000 (15%)
Source: Börse Online
France
In France, the Wii U has sold better than in Germany, but not by much. With 742 000 units sold since launch, the Wii U is still ahead of the Xbox One, but it's only a matter of months/weeks until Microsoft's console overtakes it. As for the Nintendo 3DS, its sales are still really strong, despite its celebrating its 5th anniversary in March. Nintendo's handheld has sold over 4 million units since launch.

In 2015, the Nintendo 3DS was the second best-selling system, with over 686 000 units sold — a pretty impresive results for Nintendo's aging handheld, which is still appealing to a wide range of people. As for the Wii U, it sold over 230 000 units in 2015, which is less than Microsoft and its Xbox One.

Software-wise, Nintendo did pretty well with 4 games in the Top 10. The best-seller is Splatoon, which is #4 with over 300 000 units sold. On Nintendo 3DS, the best-seller is Animal Crossing: Happy Home Designer, even though it launched in October (a few weeks ago, Nintendo France revealed that a total of 220 000 units of the game were sold by mid-December). Mario Kart 7 also enjoyed strong sales: it's #8, just before Tomodachi Life (which took Europe by storm last year).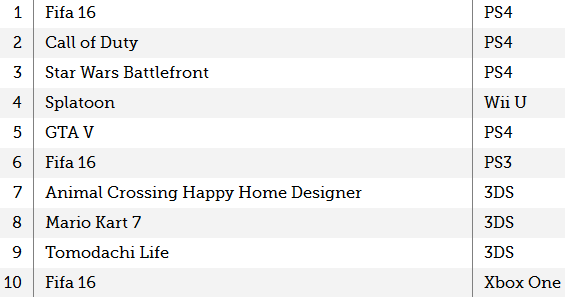 Source: Le Figaro