SEGA 3D Classics Collection headed to retail in North America, in April
Back in December, SEGA released a second compilation of SEGA 3D Classics at retail in Japan (called SEGA 3D Classics Archives 2). It includes quite a few games, including several that are still not available separately on the Nintendo eShop. Good news for fans of retro games: the collection is coming to North America in April, and will be available on the Nintendo eShop and at retail!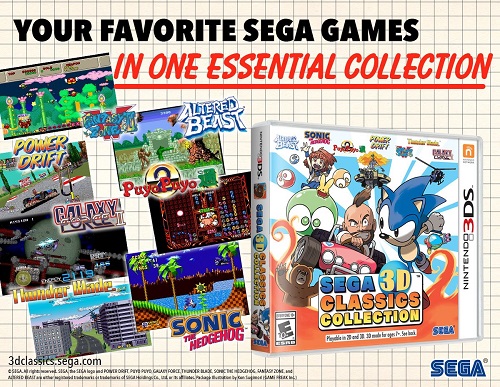 The collection will include two games never released outside Japan:
Power Drift
Puyo Puyo 2: due to the game being hardcoded in Japanese, it will not be localised. However, there will be instructions in English in the manual.
Next, we have two games that were never released on Nintendo 3DS before:
Maze Walker (which used the SegaScope 3-D glasses on the Sega Master System), originally released as Maze Hunter on the Master System in the West.
Fantasy Zone II: The Tears of Opa-Opa.
Finally, we have games that were previous released as SEGA 3D Classics in the West:
Fantasy Zone II W (the System- 16 arcade board upgrade, with added 3D effects).
Sonic The Hedgehog
Thunder Blade
Galaxy Force II (remastered version with upgraded graphics, with double the resolution of the original)
Altered Beast (with local co-op multiplayer).
The SEGA 3D Classics Collection will be released on April 26th in North America, at retail and on the Nintendo eShop. Its price will be $29.99/CA$44.99. Unfortunately, we don't know if/when Europe will get the collection, if/when the new games will be released separately on the Nintendo eShop, and if/when the first collection will also be released in North America and/or Europe.
Finally, here's the boxart of the SEGA 3D Classics Collection (with the artwork drawn by Ken Sugimori, of Pokémon fame):
SEGA 3D Classics Collection (3DS) comes out on April 26th in North America. You can check out its official website by clicking here.
Source: SEGA