Nintendo Investor Briefing (Oct. 2018): mobile games (Dragalia Lost, Fire Emblem Heroes, AC Pocket Camp, more)
During the latest Nintendo Investor Briefing, Shuntaro Furukawa (the new president of the company) talked about the various mobile games from Nintendo.
First: Dragalia Lost. It was launced on September 27th, and initially, it was only supposed to be available in Japan, Taiwan, Hong Kong and Macao. But in the end, it launches in the United States alongside the other regions, and it looks like it was a great move.
Nintendo ended up with over 1 million pre-registrations, despite the game being a completely new IP without any existing Nintendo IP. And this interest in the game didn't wane after launch, since the game has already recorded nearly 4 billion Yen in sales. Ratings are also extremely high on iOS (4.8), which indicates positive reception from players.
In other words, this was a really positive launch for a new IP, with players embracing it fully. Moving forward, Nintendo is planning to focus on promoting the game on TV via commercials, but also on various promotional activities, events, and updates to attract more and more players.
Next: Super Mario Run. It's now been nearly two years since it launched, but the number of downloads keep increasing steadily.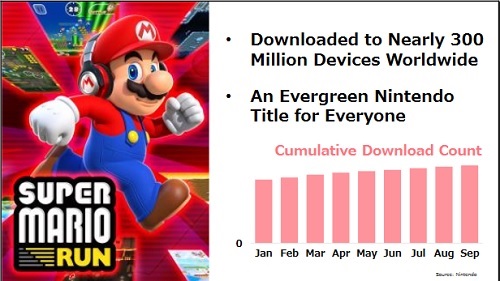 It's now nearing 300 million downloads around the world, with over 90% of those coming from outside Japan. Nintendo is now calling it an evergreen title, because it's getting a stable number of downloads every month. It's a pretty important game for the company, that allows them to bring Mario to a wide range of players around the world, especially in countries / regions where Nintendo consoles are not available (futrther expansion the amount of people exposed to Nintendo's IPs).
As for Fire Emblem Heroes, it's also growing with a sustained number of active users and total sales rising at a steady pace.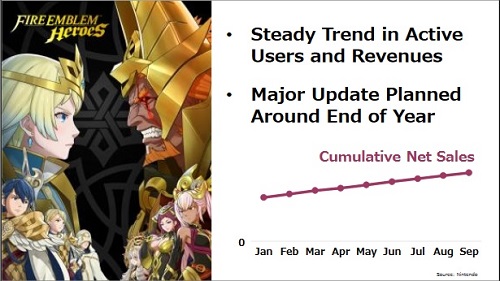 What's more, the number of players outside Japan continues to expand, and there's now more active users there than in the game's home country. A major update, Ver. 3.0, is planned for later this year (around the end of the year, most likely in December), but no further details were provided. The company fully intended to keep updating the game and adding more content to attract more and more players.
Finally, Animal Crossing: Pocket Camp is also doing well. It's now been nearly a year since the game was launched, and about half of the current userbase is made of players who started playing at launch. The game is also enjoying a sutained number of active users, with many adult female players.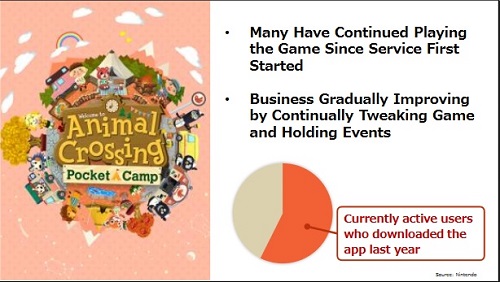 Since launch, developers have made various improvements to the game, and many events have been held, which helped improve the business situation. Right now, the team is busy with a major update that will "broaden the scope of the gameplay", most likely releasing next month (date TBA). More details about it will be shared closer to release.
And in case you're wondering: no, Nintendo has forgotten about Mario Kart Tour. Its release is still planned for this Fiscal Year (before April), but no further details were provided.
Overall, Nintendo's goal with its mobile game is still to expand its mobile business and make it a pillar of revenue for the company.
Source: Nintendo