Japanese news (Aug. 19): Earthbound planners / Nintendo Badge Arcade
Today's Japanese news: some Mother 2 / Earthbound planners on 1001.com (Shigesato Itoi's website), but also…
Nintendo Badge Arcade
Culdcept Revolt
Mother 2 / Earthbound planners
August is quickly drawing to a close, which means it's high time to start thinking about… 2017! You're probably not the kind of person who (still) uses a planner, but in just a few seconds, you may well end up with a strong desire to buy one. Or even three.
Today, 1001.com (the website of Shigesato Itoi, the creator of the Mother / Earthbound series) revealed their 2017 line-up for planners, and it turns out they have not one, but three different Mother 2 / Earthbound models:
Here's some pictures for all three Mother 2 / Earthbound models:
Nintendo Badge Arcade
Today, Nintendo added the following to Nintendo Badge Arcade in Japan:
new Splatoon badges (Callie and Marie)
new Nikki / Isabelle / Ashley badges
new Pokémon badges
and more…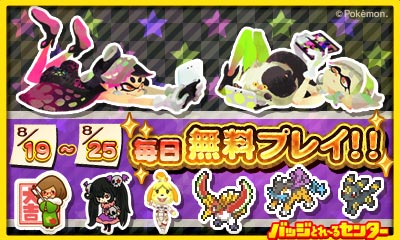 And until August 25th, Nintendo is offering some free plays each day, so make sure to use this oppurtinity to get the badges you want for free!
Source: Nintendo
Culdcept Revolt
Here's the recording of the Culdcept Revolt segment from last week's episode of Denjin Getcha: