Daily Briefs (Oct. 13) – Super Game Boy / Famicom (Disk System)
Today's Daily Briefs: a collection of Super Game Boy borders, but also…
Famicom (Disk System)
Monster Hunter Stories
Yo-kai Watch: The Movie
Super Game Boy
The Super Game Boy is an add-on for the SNES, that allows you to play GameBoy games on your TV screen. When you played Game Boy games, they were displayed within an ornamental border. Some of them were as bland as you can get, but most of them range from pretty neat to fantastic.
If you're interested in those borders, VG Museum has shared a gallery of over 800 borders for the Super Game Boy: click here to check them all out!
Famicom (Disk System)
For the 30th Anniversary of the Legend of Zelda series, Nintendo has been publishing a series of blog posts on its Topics website, in Japan. In the second one, published today, Nintendo shows us some Famicom and Famicom Disk System units they have in storage (and also a Famicom Disk System Writer.
Their goal? Launching the original The Legend of Zelda:
Source: Nintendo
Monster Hunter Stories
Today, Capcom announced that Monster Hunter Stories would get a special collaboration with Super Radical Gag Family (Urayasu Tekkin Kazoku). More details can be found in the latest issue of Weekly Shonen Champion, but we already know that there's a special costume for Nabiru to get after completing a special quest.
Here's a picture of said costume: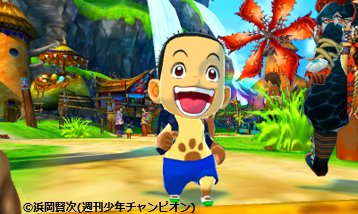 Source: Capcom
Yo-kai Watch: The Movie
This Saturday, Yo-kai Watch: The Movie gets a limited theatrical release in the United States. If you're planning on attending, you should know that you will be able to get a free ticket for it if you spend at least $10 on Yo-kai Watch merchandise at GameStop: