-CHASE- The Unsolved Cases Section (ex-CING staff): trailer, release date, details (JP)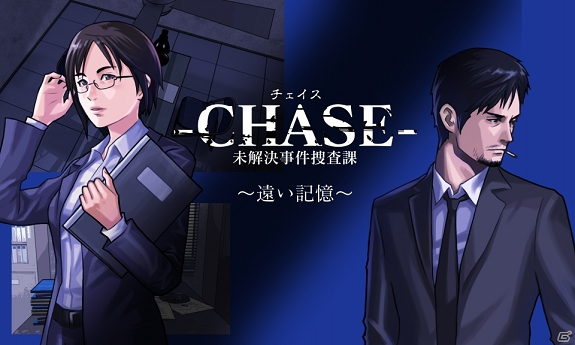 -Chase- The Unsolved Cases Section is an adventure game developed by G-Collection, and published by Arc System Works. Some former staff from CING have worked on it, including Taisuke Kanasaki (Another Code, and Hotel Dusk/Last Window) who was in charge of game design and chara-design. As for the scenario, it was written by Mayu Sakura.
Today, Arc System Works revealed that -CHASE- The Unsolved Cases Section would be released on May 11th in Japan, where it will cost 800 Yen. They even revealed the first actual trailer for the game:
The game is set in modern-day Tokyo, and follows a strange detective of the Unsolved Cases Section (located)Tokyo Police Station 3 and his assistant: Shonosuke Nanase and (self-proclaimed) elite detective Koto Amekura. Together, they chase after the truth of various unsolved cases. The game was designed in such a way so as to give you the impression you're watching a drama or a movie.
As for the story, it all starts with Yuta Mimura causing an explosion: a rather strange incident considering Yuta is usually a pretty calm kid, who can be childishly innocent with people he trusts. One day, the duo receives a strange phone call: "That wasn't an accident. It was murder." After that, they immediately start investigating.
Here's details about the two main characters:
Shonosuke Nanase: a rather weird police detective from the Unsolved Cases Section of Tokyo Police Station 3. Usually, he's not really motivated, but it all changes when he gets serious. That's when he exhibits a sharp sense of observation.
Koto Amekura: a self-proclaimed elite police detective, who was assigned to the Unsolved Cases Section of Tokyo Police Station 3. Unlike her partner, she is quite motivated and proactive, but her idea aren't always right.
If you're interested, you can find all 5 short stories translated on this page!
Our Upcoming Releases pages has been updated with this date!
Source (details): Famitsu
Via: Court-Records