Attack on Titan – Humanity in Chains: North American launch trailer
Yesterday, Attack on Titan: Humanity in Chains (based on the famous manga series created by Hajime Isayama) came out in North America, exclusively on the Nintendo 3DS eShop. To celebrate, Atlus USA (who's publishing the game in the West) revealed the North American launch trailer for the game.
Unsurprisingly, this launch trailer showcases the main features of the game, like the local and online multiplayer (up to 4 players), but also the story mode with various cutscenes from the anime series, and 5 different playable characters:
– Eren Jaeger
– Armin Arlelt
– Mikasa Ackerman
– Sasha Braus
– Levi
If you prefer to play with your own character, World Mode is for you: you can create your own character and customise it at will. You can even recreate those from the manga/anime series if you prefer. Finally, the trailer also showcases elements such as the various battlegrounds, the Titans, and the Missions.
Here is the launch trailer for Attack on Titan – Humanity in Chains:
https://www.youtube.com/watch?v=7H3aUliGK3k
And don't forget: you can get a free Nintendo 3DS Theme (not sold separately) by buying the game: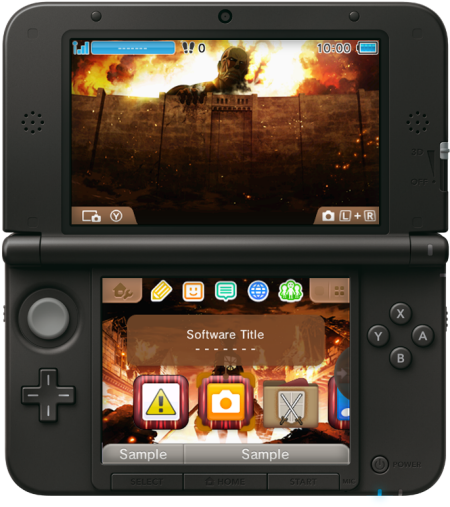 Attack on Titan: Humanity in Chains (3DS eShop) will be known as Shingeki no Kyojin: Humanity in Chains in Europe (due to some copyright issues), and is coming out later this year.
Source: Atlus USA