Ace Attorney – Spirit of Justice: more details and scans (Case 3, new characters, more)
As announced yesterday, Phoenix Wright: Ace Attorney – Spirit of Justice is showcased in Famitsu magazine this week, with some details about Case 3. And as usual, thanks to our friends at Court Records, we have some translations of the details found in the magazine!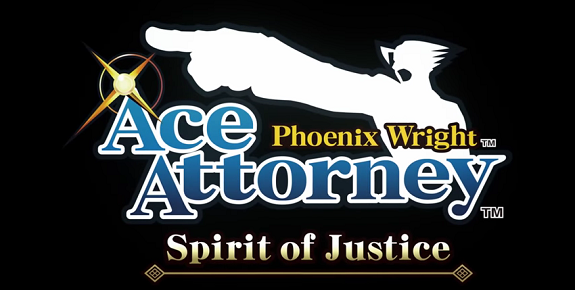 In this case, Maya Fey is arrested: she is suspected of murdering a priest, who was killed during the final rite of her training. One of the reasons the police suspect her is because the two were alone in the shrine at the time. Maya was playing the role of the mythical bird princess, who is said to have protected the Kingdom of Khura'in in a time of conflict.
The bird princess is pretty popular in the country, so popular that she even has her own TV show. That show is called Torisaman, which is a pun based on "Tori" (bird in Japanese) and "Tonosaman" (the Japanese name of the Steel Samurai).
The prosecutor in that case is Nayuta Saadmahdi, who comes back to the Kingdom of Khura'in. Ema Skye actually travels with him, and that's how she ends up in that country. Naturally, she goes and offers to help Phoenix Wright in his investigation, with forensics.
Four new characters are revealed:
Nanashiino Ganbe (Tentative): the "tentative" is not there to indicate the reading of that name is tentative. The man is actually suffering from amnesia so serious, he added that "tentative" to his own name.
Saara Aatam: the victim's wife. She's apparently hiding something, and Phoenix Wright will have to deal with Psche-Locks (which are returning in this game) in order to find the truth.
Druk: leader of the revolutionary forces;
Inga Karakhul Kurha'in: Rayfa Padma Khurain's father. He's the Queen's husband, and the Minister of Justice of the Kingdom of Khura'in.
Finally, Famitsu confirms that the Revisulations system is back in Phoenix Wright: Ace Attorney – Spirit of Justice. But unlike in Phoenix Wright: Ace Attorney – Dual Destinies, the process is shown as diving "into" the screen (and not moving from left to right).
Here's the scans from Famitsu magazine:
Phoenix Wright: Ace Attorney – Spirit of Justice (3DS) comes out on June 9th in Japan, and September in Europe and North America.
Source: Famitsu
Translations by: Court Records
Scans by: Japanese Nintendo