Yo-kai Watch: launch trailer, full episodes coming soon to YouTube (NA-only)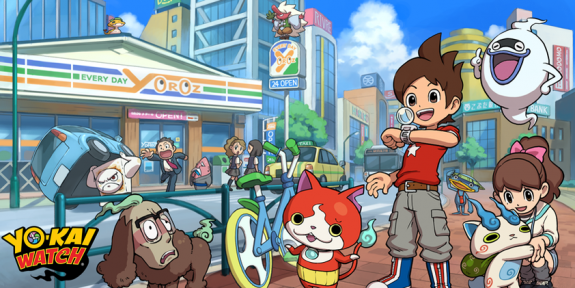 Yesterday evening, Nintendo of America uploaded the launch trailer for Yo-kai Watch, which is coming out this Thursday in North America. In it, Whisper and Nate introduce the mysterious world of Yo-kai: mischievious and invisible creatures who like to play tricks on humans, which has an impact on their daily lives. There's over 200 of them to befriend in the game.
Once you've befriended a Yo-kai, you can use it in your team in order to go fight misbehaving Yo-kai. You use the Yo-kai Wheel to select which ones attack, and the touch screen to launch special attacks. You can also purify them by tapping the bottom screen, if you need. Battling allows your Yo-kai to get some XP, so that they can level up and even evolve. What's more, you can fuse some of them in order to create new Yo-kai.
The trailer also mentions the Medallium: a book where you can put all your Yo-kai medals. If you collect certain medals, you can unlock some special, Legendary Yo-kai. Finally, we get to see a boss, as well as a special Yo-kai who comes to punish jaywalking children!
Here's the launch trailer for Yo-kai Watch:
Finally, the official Facebook page for Yo-kai Watch announced that full episodes of the anime series would soon be uploaded to YouTube. The wording implies that not all episodes will be made available, only a selection (most likely in order to promote the launch of the Nintendo 3DS game). However, one thing's confirmed: the episodes will only available to viewers from North America (United States and Canada).
Yo-kai Watch (3DS) comes out this Friday in North America, on December 5th in Australia, and next year in Europe.