Yo-kai Watch 2 releasing on September 30th in North America, will get two versions
Europe only got the first Yo-kai Watch last month, but in North America, fans are already looking forward to the sequel. Today, Nintendo of America announced that Yo-kai Watch 2 would be released on September 30th in North America. Just like in Japan, the game will get two versions, with their own exclusive rare Yo-kai. The versions are called "Bony Spirits" and "Fleshy Souls".
Unfortunately, we don't know if the third version will ever be released in North America (and Europe) or not.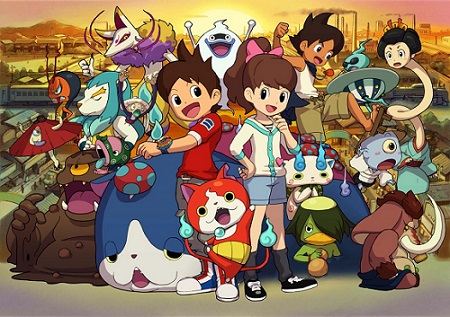 For those who don't know, Yo-kai Watch 2 features a brand new adventure, with many new areas to explore outside of Springdale, more than 100 new Yo-kai, a new-and-improved in-game Yo-kai Watch. During the adventure, you will get even the opportunity to travel back in time!
But there's more… Some news regarding the toys and the anime series were also announced at the same time as the second game. The following will be released later this year:
the Yo-kai Watch Model Zero (modeled after the watch Nate wears in the anime series)
Yo-motion Yo-kai medals: when you insert one into the Yo-kai Watch Model Zero, you will get to see a projected animation of the character on the medal
accessories
large plush toys
electronic figures
the Yo-kai Watch Trading Card Game
As for fans of the anime series, there's also some good news for them.
It was announced that Disney XD had acquired a second season of the Yo-kai Watch anime series. It will start airing this Summer, most likely in August if they follow the same pattern as the first Yo-kai Watch season (which debuted one month before the game itself). If you missed the first season, you can watch it on Netflix, or you can wait for the DVD release of Season 1 in Late 2016.
Yo-kai Watch 2 (3DS) comes out on September 30th in North America.
Our Upcoming Releases page has been updated!