Swords & Soldiers II: Introduction trailer and Daily Duel #11
Just like the first game (released on WiiWare), Swords & Soldiers II is a real-time strategy game. It comes out in less than one week (on May 21st) in Europe and North America, exclusively on the Wii U.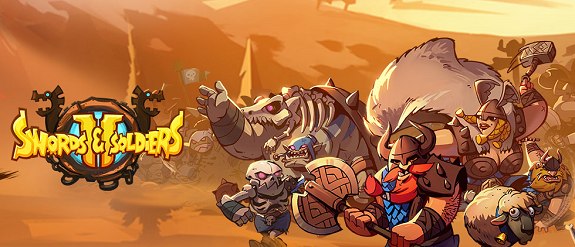 If you've never heard of Swords & Soldiers before, then Ronimo Games has the perfect trailer for you! They uploaded it yesterday evening, and it's logically called "Introduction trailer". It introduces the basic elements of the game: the world, the "story", the various factions, and more. With this trailer, you will also get a taste of the crazy humour the first game was known for, and that this sequel inherited!
Here's the introduction trailer for Swords & Soldiers II:
If that's not enough for you, then you should definitely check out the Daily Duels videos Ronimo Games has been revealing since Early May.
The 11th Duel Video, uploaded yesterday evening, pits 2 Spearthrowers + 4 Desert Stalkers against 3 Shamshir soldiers + 3 Berserkers + 3 Axethrowers.
Here's the other Daily Duel videos:
Daily Duel #1
Daily Duel #2
Daily Duel #3 and 4
Daily Duel #5 and 6
Daily Duel #7 and 8
Daily Duel #9 and 10
Swords & Soldiers II (Wii U eShop) comes out on May 21st in Europe and North America.
Source: Ronimo Games