Swords & Soldiers II: livestreaming recording, Daily Duel videos [Duel #9 and #10]
Just like the first game (released on WiiWare), Swords & Soldiers II is a real-time strategy game. It comes out in exactly one week (on May 21st) in Europe and North America, exclusively on the Wii U.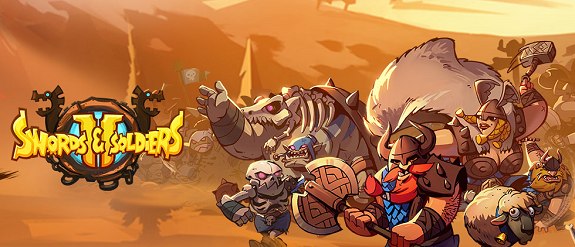 Duel Videos
In order to prepare for this long-awaited launch, Ronimo Games launched the Daily Duel video series last week. Every day, and until the game's launch on May 21st, a brand new video will be uploaded every day on YouTube. As the name implies, those videos show a Duel between two groups of units from Swords & Soldiers II.
And yesterday, Ronimo Games uploaded the 9th Duel Video. This one too is quite busy, as it pits 3 Berserkers + 6 Shamshirs + 1 Electric Elder against 2 Nagas + 5 Spearthrowers + 1 Barrelrider + 1 Corpse Explode spell.
Today, the 10th Duel Video is pitting 1 Shamshir soldier + 2 Electric Elders + 6 Axethrowers + 1 Frozen Mjollnir spell against 4 Nagas + 4 Berserkers + 2 Spearthrowers!
Livestream recording
Yesterday evening, Ronimo Games held a special livestream on their Twitch channel. It was the occasion for them to showcase Swords & Soldiers II during a full hour. If you're interested in the game and would like to check out some gameplay footage, you should definitely watch the livestream recording!
You will find it after the break (due to the auto-play)!
Here it is (gameplay starts at 3:23):
Swords & Soldiers II (Wii U eShop) comes out on May 21st in Europe and North America!