Splatoon: new update available (Ver. 2.10.0), download size and patchnotes
On Wednesday, Nintendo released what was probably the last major update for Splatoon: Ver. 2.9.0. This new version added some more balance fixes (mainly for weapons), but also added the content you unlock via the Marie & Callie amiibo. Unfortunately, it looks like it also added added a bug alongside the new content and the fixes.
Because of that bug, some players would sometime appear to be floating outside the stage, during online play (even though they are actually on the stage). The good news is that it wasn't all that serious bug, since not only have Nintendo already found a way to fix this, but they have already released a new patch to do so…
Here's the official patchnotes in English:
Fixes a bug where it could appear as if players are floating in space off the stage, though actually they are on the stage
This update requires only 9MB of free space on your Wii U or external HDD if you already have Ver. 2.9.0 installed (and up to 839MB if you haven't already). To download it, you have two options:
let the Wii U do its thing if you have automatic downloads activated. You should have the latest version of Splatoon installed the next time you turn on your console;
if not, you can launch Splatoon from the Home Menu (not the Quick Start Menu!) in order to trigger the download manually.
To check that you have the latest version of Splatoon, simply launch the game: you should see Ver. 2.10.0 at the top right corner of the screen.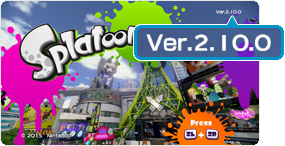 Source: Nintendo