Nintendo France: more sales data (games, amiibo), plans for 2016
As reported by Le Figaro, 2015 was a rather calm year for Nintendo compared to 2014 (which had Super Smash Bros. and Pokémon Omega Ruby / Alpha Sapphire, among others). Still, sales didn't drop as much as you'd expect in France:
Nintendo 3DS: 685 000 units sold (-6%)
Wii U: 228 000 units sold (-4%)
For the Nintendo 3DS, it's pretty clear that the launch of the New Nintendo 3DS, back in February, helped limit the drop in sales. But Software also played a big role, especially "old" games such as Mario Kart 7. Released back in 2011, it sold over 225 000 units in 2015, and was the 8th best-selling game in France. Same for New Super Mario Bros. 2, released in 2012, which sold an additional 180 000 units.
In fact, Animal Crossing: Happy Home Designer was the only "new" Nintendo 3DS to make it to the Top 10, with about 250 000 units sold. According to Philippe Lavoué (CEO), even Nintendo wasn't expecting such strong sales for the game. In 2015, the company tried to target little girls with games such as this one and Nintendo Presents: New Style Boutique 2 – Fashion Forward, and they were pretty successful it seems. The latter sold over 130 000 units in a month.
On Wii U, Splatoon sold over 300 000 units, a pretty strong first year for this brand new IP.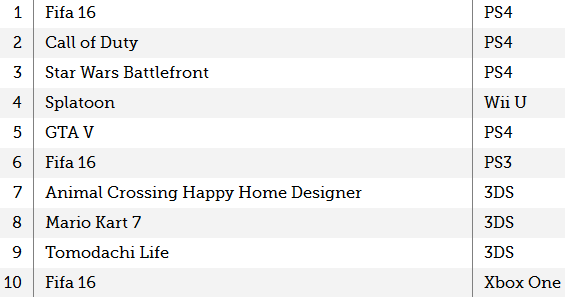 Nintendo also talked a bit about amiibo, and revealed that over 1 million figures were sold in 2015 in France: that's 7 times as much as in 2014 (but obviously, that's because amiibo were launched by the end of the year). As for Animal Crossing amiibo cards, over 250 000 packs of cards have been sold already.
Philippe Lavoué explains that, in 2016, Nintendo will have new games launch with a related amiibo (such as The Legend of Zelda: Twilight Princess HD and the Wolf Link amiibo, for example) more often. Also, quite a few key games will be released: new Zelda game on Wii U, Fire Emblem Fates, Bravely Second: End Layer, Dragon Quest 7 + 8 on Nintendo 3DS, and more.
But the one game Nintendo is betting big on is Yo-kai Watch: it will be released later this year in Europe, and the anime will be broadcast on a major national TV channel in France (we don't know which one yet). Philippe Lavoué certainly hopes the game will meet a kinder fate than in the US, where it had rather disappointing sales (especially with the big marketing push it received).
Of course, the launch of the first mobile app (Miitomo) and the reveal of the NX platform are (for most people) what makes 2016 a major year for Nintendo. And just like Satoru Iwata and Tatsumi Kimishima have said several times in the past, game consoles will remain Nintendo's core business. However, the company is still going to bring its IPs outside of the console sphere, with more official merchandise.
There's of course amiibo (with more coming this year), but also the Nintendo attractions at Universal Theme Parks, and more. In France, the company signed a deal with clothing companies, such as Vans (who makes shoes) or Undiz (a chain of stores selling underwear / pajamas for women, who will get Nintendo-branded underwear and pajamas).

Source: Le Figaro