Pokémon news (March 13th): new battle competiton, 3DS themes in Europe
Enter The Dragon Type
Yesterday, the registration period for Enter The Dragon Type (a new battle competiton for Pokémon Omega Ruby / Alpha Sapphire) was opened. There's some special rules: double-battles only, National Pokédex (you need at least one Dragon Type Pokémon in your team), and you're allowed up to 2 legendary/mythical Pokémon: Mewtwo, Mew, Lugia, Ho-Oh, Celebi, Kyogre, Groudon, Rayquaza, Jirachi, Deoxys, Dialga, Palkia, Giratina, Phione, Manaphy, Darkrai, Shaymin, Arceus, Victini, Reshiram, Zekrom, Kyurem, Keldeo, Meloetta, Genesect, Xerneas, Yveltal, Zygarde, and Diancie.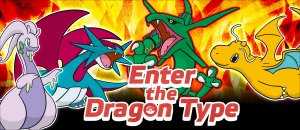 You have until March 20th to register, and the actual competition starts on the same day, until March 23rd.
Nintendo 3DS themes in Europe
Good news for European fans: the Pokémon themes for the 3DS, that came out earlier this week in Japan and North America, are now available in Europe!
– Pokémon: Mega Rayquaza (Nintendo): 1.99€ / 1.79£
– Pokémon Friends (Nintendo): 1.99€ / 1.79£
– Pokémon: Hanafuda (Nintendo): 1.99€ / 1.79£
Source: Serebii