Nintendo Investor Briefing: download sales on the rise
During today's meeting with investors, Satoru Iwata talked a bit about Nintendo's Digital Business. He shared the graph below, which shows the progression of download sales during the last three Fiscal Years. It also allows us to see that sales grew dramatically during the last two quarters of 2014-15 (October 1st – March 31st).
For the whole Fiscal Year, total download sales reached 31.3 billion yen (231 million € / 171 million £ / 261 million $), which is an increase of roughly 30% compared to the two previous Fiscal Years. According to Satoru Iwata, this is mainly due to the increase of sales for the digital version of retails games on Wii U / Nintendo 3DS, and especially in the West.
Here's the graph from the investor meeting, showing the increase in download sales during the past three years: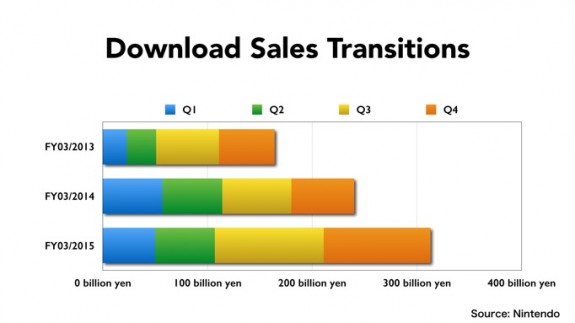 Source: Nintendo