Nintendo Investor Briefing (Apr. 2018) – Kimishima on Nintendo Switch's second year, Nintendo Switch Online
During the latest Nintendo Investor Briefing, Tatsumi Kimishima talked at great lengths about the Nintendo Switch, and more precisely its second year on the market.
So far, the Nintendo Switch has been pretty well received, and had a great first year. It's made a solid start, and for Nintendo, now is the time for expansion. And the second year is quite crucial for a dedicated game platform: novelty has worn off, and the platform is truly put to the test. Will it just a be a fad, soon to be forgotten? Or a real success story for many years?
For Nintendo, the first year was all about setting up the stage for the further expansion of the installed base during the second year. Tatsumi Kimishima mentioned two key points:
Nintendo has to make sure that people who have already purchased (or plan to purchase) a Nintendo Switch keep playing it;
Nintendo has to make sure a broad range of consumers buy a Nintendo Switch.
And the best way to achieve the first key point consists in… releasing more games! One coming this year is Super Smash Bros., a game that Nintendo "heard people clamoring for", which is why the announcement made a big splash (it IS Super Smash Bros. after all!). Another key title is Mario Tennis Aces, releasing on June 22nd.
According to Tatsumi Kimishima, it's a game that perfectly fits the "play anytime, anywhere, with anyone" mantra. After all, you can play with just one Joy-Con per player, so you can share one with a friend and start playing right away no matter where you are, as long as you have the console (and game) with you.
There's also motion controls, that allow for intuitive controls. Of course, the story mode is going to be a big hit with players, who have been clamoring for its return for quite a while. Finally, there's the various online events, that should help keep up the interest in the game (similiar to the Splatfests in Splatoon 2). Broadly accessible, pick up and play, tactical depth: Nintendo expects Mario Tennis Aces to play a key role in the next FY.
Another way to keep player engages consists in providing DLC and hosting various events, in order to give players a "fresh sense of enjoyment", and extend the amount of time they spend on each game.
Splatoon 2 is a good example of this strategy. The following graph shows the amount of weekly active users in Japan over the past few months: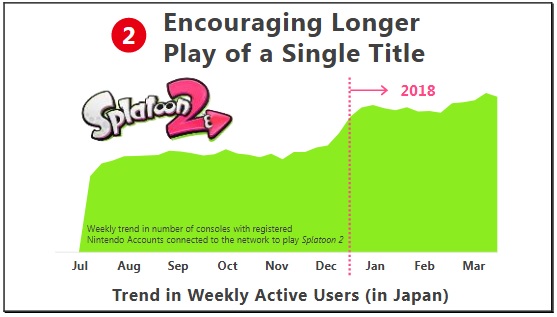 Usually, after the holiday season, players start playing less, but it's definitely not the case for Splatoon 2. Activity in that game is particularly high in Japan, but according to Tatsumi Kimishima, a similar trend can now be seen in other markets too.
That's why they're going to keep focusing on this particular area, and release the Octo Expansion this Summer: a major paid DLC, that will give players even more ways to enjoy the game.
Tatsumi Kimishima also mentioned the various real life events for ARMS and Splatoon 2, such as the Splatoon Koshien tournaments in Japan. Those are pretty important for Nintendo, because for fans, those are more than just a place to put their skills to the test: it's also the occasion to meet other players, socialise, and be part of an active community.
In the future, Nintendo fully intends to continue to set up such "fun projects" and experiences that go beyond mere gameplay, in order to keep as many players interested in its games and consoles.
Another thing Nintendo is planning to launch during the Nintendo Switch's second year: the Nintendo Switch Online subscription service. As announced previously, it will begin in September, and according to Tatsumi Kimishima, it will "provide consumer with a richness of online features that allow them to continuously enjoy" their console. More details will be shared earlier than you were probably thinking… in early May!
Tatsumi Kimishima also talked abut My Nintendo, that was revamped in March: it now allows players to use Gold Point to purchase games on Nintendo Switch. He explains that it encourage players to play new games, while giving them the sense that they are saving on purchases.
Now, on to the second key points mentioned above: making sure a broad range of consumers buy a Nintendo Switch. Tatsumi Kimishima explained that the concept behind the console has been adopted at speeds that exceeded Nintendo's expectations. And yet, there are still a fair number of consumers who do not yet know about the unique features of the console.
But as more and more people take their console and play it in various places, more and more people become aware of what the Nintendo Switch has to offer. For Tatsumi Kimishima, those types of experiences "have the potential of broadening the Nintendo Switch installed base, even among consumers who did not think Nintendo Switch would be for them."
And it's a good thing that the console already has plenty of key Nintendo titles: anyone interested in the console can see that there's already plenty of interesting game for them to choose from, maximizing the appeal of the platform. What's more, the continued buzz generated by games like Splatoon 2 inevitably leads to potential new users learning about them.
It's something that's true about pretty much all multiplayer games: the more people are playing a game, the more likely someone is to be exposed to it (since players are constantly talking about it, streaming it, setting up tournaments, etc.). Besides, the frequent updates ensure a game is frequently covered on video game websites, further increasing their reach.
Finally, Tatsumi Kimishima talked about games like 1-2-Switch and ARMS, that offer gameplay experiences that cannot be found anywhere else. What's more, they allow larger groups to have fun together. The company is learning from the sales growth of these titles to further their ability to expand the userbase and increase sales.
Quite interestingly, the president of Nintendo also mentioned the News feature of the console, which provides one way for consumers to find the games they want to buy next.
Not only does it offer a daily stream of news (from both first-party and third-party games), but each article also has a link that allows users to jump straight to the Nintendo eShop page of the corresponding game right away. Found a game that looks interesting? Just click on the link, and you're ready to part with some of your hard-earned cash before you change your mind.
And it turns out that the feature is used a lot, as Tatsumi Kimishima mentioned a "considerable percentage of consumers who play Nintendo Switch" that also happen to browse through those news posts. Therefore, it's no wonder Nintendo made various improvements to that particular feature with a recent Firmware update.
Finally, Tatsumi Kimishima once again brought up Nintendo Labo, a game that offers a new kind of play. Naturally, the company intends to "nurture" it into one of its staple products: one that offers an experience that cannot be found anywhere else but on Nintendo Switch.
That way, they can reach a broad, global audience, that encompasses not just the usual video game fans, but also people not really interested in games in the first place. Now that's a pretty "Nintendo-like" thing to do: trying to make people not interested in video games buy a video game console!
Source: Nintendo