Nintendo Investor Briefing (Apr. 2018) – Kimishima on Nintendo Switch sales
During the latest Nintendo Investor Briefing, Tatsumi Kimishima talked at great lengths about the Nintendo Switch, and more precisely its sales during the first year on the market.
The first topic he tackled was Nintendo Labo, which was launched last week in North America and Japan, and this week in Europe. He explained that from the beginning, it had the high expectations of a "very Nintendo" product. As soon as it launched, users started sharing photos and videos of parents and children working together to assemble the Toy-Cons, before playing with them.
According to early sales data from Japan and North America, people buying Nintendo Labo are not the typical video game buyers: it's mostly elementary school children and their fathers, along with players who like creative activities.
In the future, Nintendo will keep on nurturing Nintendo Labo as a product that is not constrainted by the boundaries of conventional video games, but can itself appearl to a broader range of consumers. And it looks like they're off to a great start, according to Tatsumi Kimishima.
He then moved on to the many games they've released since the Nintendo Switch launched, keeping the buzz alive all the way through the end of the year. Of course, they haven't stopped releasing games in 2018.
He explained that they're selling more titles across a broad array of genres: accessible ones like Kirby, well regarded titles like Bayonetta, and more. According to him, this gives them a real sense that the consumer base is growing.
Here's the graph showing the sell-through for Kirby Star Allies, compared to previous games in the series during a similiar time frame (first 5 weeks after launch):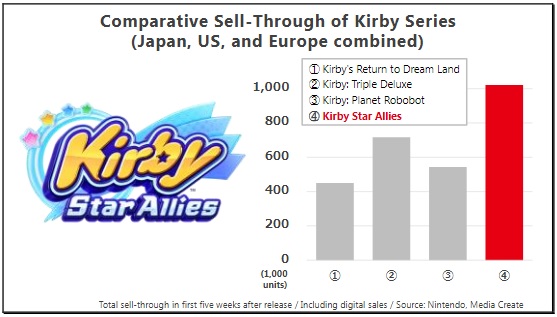 As you can see, Kirby Star Allies has a stronger momentum than the other 3 games, which is a positive sign.
The thing is, Bayonetta 2 also outsold the Wii U version, launch aligned (first 9 weeks after launch):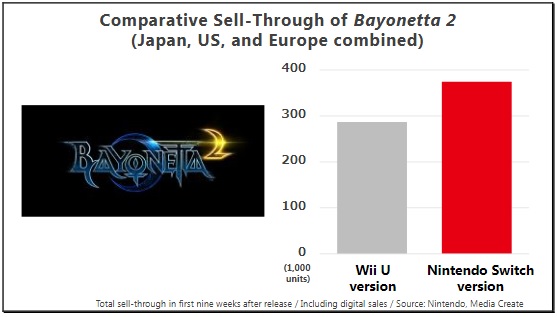 On the digital side, things are going pretty well. Tatsumi Kimishima talked about a "huge growth" of the digital business compared to past Nintendo platforms, and looking at the graph below, it's easy to see why: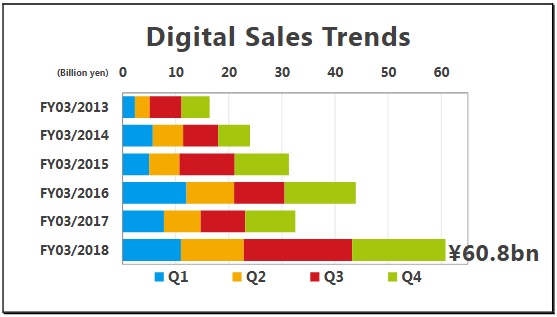 The past Fiscal Year was no less than the best year ever for Nintendo's digital business. According to Tatsumi Kimishima, this was primarily due to the sales of retail games via the Nintendo eShop, but also DLC.
Source: Nintendo