Nintendo Investor Briefing (Feb. 2018) – Kimishima on future prospects for the Switch, Nintendo Switch Online in September
During the latest Nintendo Investor Briefing, Tatsumi Kimishima talked at great lengths about the Nintendo Switch, and more precisely its future prospects.
Right now, the console is in a phase of expanding adoption, which means Nintendo's approach has to focus on two things:
users who already own the console (to make sure they keep using it regularly);
people considering purchasing the console, and attracting an even more varied audience.
One thing Nintendo managed to do during the first year is to release several key titles: The Legend of Zelda: Breath of the Wild, Splatoon 2, Mario Kart 8 Deluxe, etc.. Those are strong system-sellers, broadening the userbase and sustaining Hardware sales in the long term.
Naturally, releasing heavy-hitters right at the launch of a console isn't just about selling many units of those games. To explain this, Tatsumi Kimishima showed several graphs.
The first one shows console attach rate for several key titles on Nintendo Switch and Wii: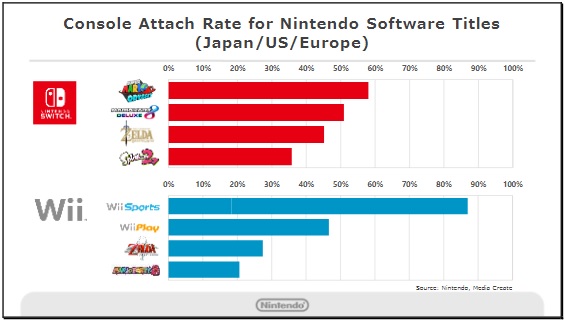 You can see that Wii Sports was an "explosive trigger" for Nintendo Switch, but that's mostly due to the game being bundled with the console in Europe and North America.
The following graph shows the same thing, minus Wii Sports bundles: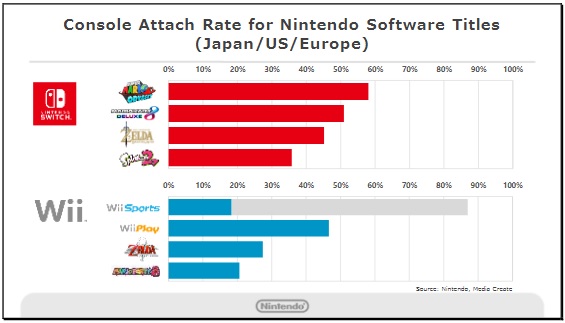 As you can see, the 4 Nintendo Switch titles all have a high attach rate, higher than pretty much all other Wii games (with the exeption of Wii Play, which had a higher attach rate than The Legend of Zelda: Breath of the Wild and Splatoon 2). Those games not only help drive Hardware sales, they also keep selling on the long term.
What's more, having several key titles to choose from makes convincing users to buy a Nintendo Switch that much easier. After all, unless you're a big fan, it's unlikely you're going to buy a console until there's at least several games you're really interested in.
And if you already own the Nintendo Switch, those key titles could end up as your second or third game for it, to play once you're done with the first one or for when you want to play with friends. This is pretty good news for sales in the mid-term.
Tatsumi Kimishima also mentions games that really showcase key Nintendo Switch features, such as 1-2-Switch or ARMS. Overall, Nintendo's goal is to offer a wide range of games for the console, in order to "spark interest" for it among people considering purchasing one.
For individual games, Nintendo is also planning to release even more DLC, and have even more events, in order to make sure players keep playing and talking about them. If you were wondering why Xenoblade Chronicles 2 or The Legend of Zelda: Breath of the Wild have DLC, here's why!
During the meeting, Tatsumi Kimishima also talked a little bit about Nintendo Switch Online (the paid subscription service). It will launch in September, which means online and the mobile app will remain free until then. Unfortunately, that's pretty much all that was said during the presentation…
Naturally, Tatsumi Kimishima talked about the biggest announcement of January: Nintendo Labo. It's one of the "Nintendo-life new forms of play" the company feel needs to be offered. Overall, reactions to the announcement were pretty positive, with many people pointing out how Nintendo managed to come up with something completely unexpected.
There's still a lot we don't know about Nintendo Labo, but the company is planning to share more details in the upcoming weeks through hands-on events and promotional activities.
So far, response from families about those events has been "tremendous", with applications outstripping spaces 50 fold in the US (in other market, the ratio of applications to available space is also extremely high).
Nintendo Labo is a product not bound by the conventional boundaries of video games, and is in fact intended to broaden the possibilities of the Nintendo Switch. It's a pretty important release, that will even help further broaden the appeal of the console.
Finally, Tatsumi Kimishima talked about upcoming releases for the Nintendo Switch, with many releases already planned for this year (there are still games left to be announced):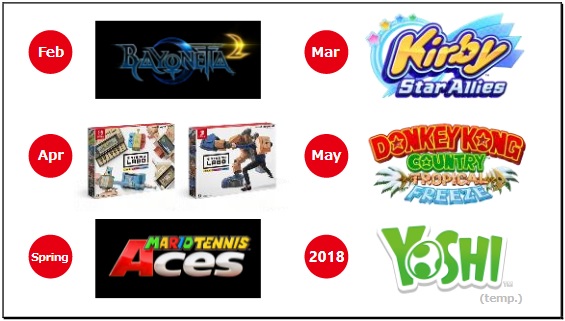 And unlike the Wii U, the Nintendo Switch is receiving significant support from third-party publishers, with over 300 games released (in fact, that number is already over 400). Thanks to the anticipation of many publishers, the line-up is already quite varied (especially if you take into account indie games).
With the Nintendo Switch selling so well, and being accepted by third-party publishers, Nintendo expect the number of games developed for it to keep increasing. Here's a selection of third-party games already announced for the console: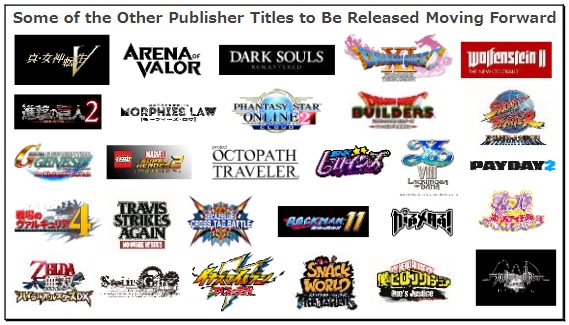 Source: Nintendo